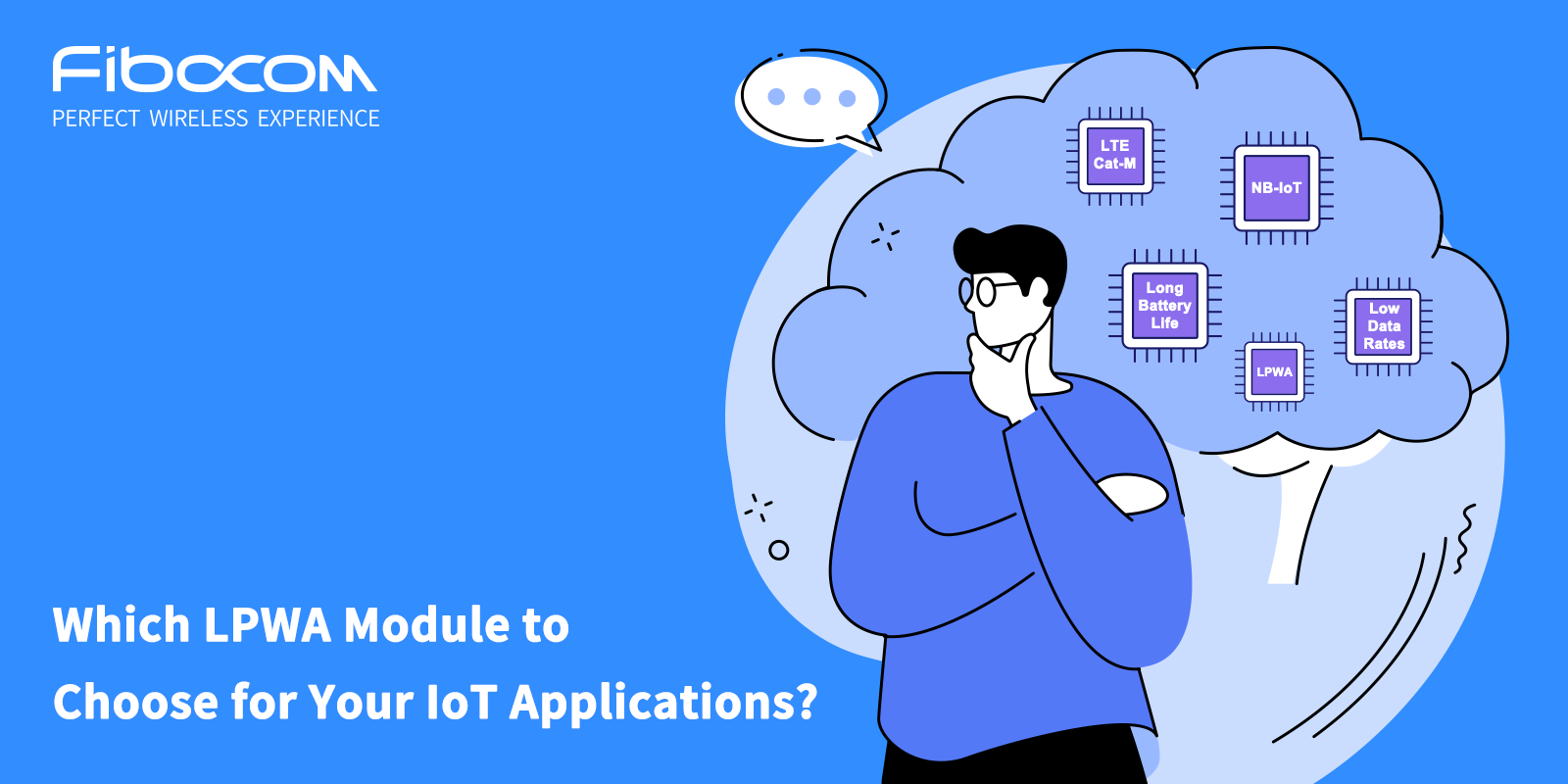 Which LPWA Module to Choose for Your IoT Applications?
Low-Power Wide-Area (LPWA) network, including LTE-M and NB-IoT, is a power-efficient technology designed to transfer small amounts of data from a large number of devices, offering enhanced network coverage and capacity, lower costs as well as longer battery life suitable for low-power IoT applications. But how to choose the right LPWA module for your project?
NB-IoT vs LTE Cat-M: What Scenarios?
Narrowband IoT (NB-IoT) operates over licensed spectrum designed for IoT devices with low bandwidth requirements. Since cellular technology offers remote support and strong signal penetration, NB-IoT is suitable for long distance and indoor or underground use. However, it cannot handle cellular tower switching, so it can only be used for fixed IoT applications. As a result, it is ideal for simple IoT scenarios that require small, intermittent data transfers and where latency is not critical, such as smart meters for gas, water and electricity, smart city (smart street lighting and parking sensors), smart agricultural (sensors that monitor irrigation systems and detect leaks), and so on.
Compared to NB-IoT, LTE Cat M supports higher uplink and downlink speeds of 1Mbps, as well as lower latency of 10 to 15 milliseconds. LTE M provides high enough bandwidth to replace many current 2G and 3G IoT applications. It supports cellular tower crossover switching so can be applied in devices that require mobility. Use cases of LTE M include smart wearables (fitness wristbands, smartwatches), asset tracking, fleet management, health monitors and smart alarms.
Defined in 3GPP Release 13 in 2016, both NB-IoT and LTE-M have not been globally available yet. NB-IoT is suitable for markets with late LTE adoption, while LTE-M is predominant in North and Latin American as well as Asian markets with early LTE adoption.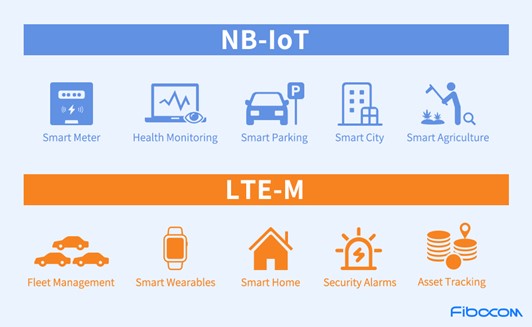 Fibocom's High-Value LPWA Solutions Empower Industry Verticals
Fibocom's commercial-ready LPWA modules can deliver cost-optimized wireless solutions for large-scale mobile IoT applications, bringing IoT solutions to the market with lower capital and time investment. The Fibocom NB-IoT module N510-GL and LTE Cat M module MA510-GL are especially suitable for IoT industry applications such as smart meter, smart home, smart parking, smart healthcare, asset tracking, smart cities, etc. Importantly, both types of modules are pin-compatible with Fibocom 2G module G510 and LTE Cat 1 module MC610, allowing customers to immigrate easily between different technologies without hardware changes.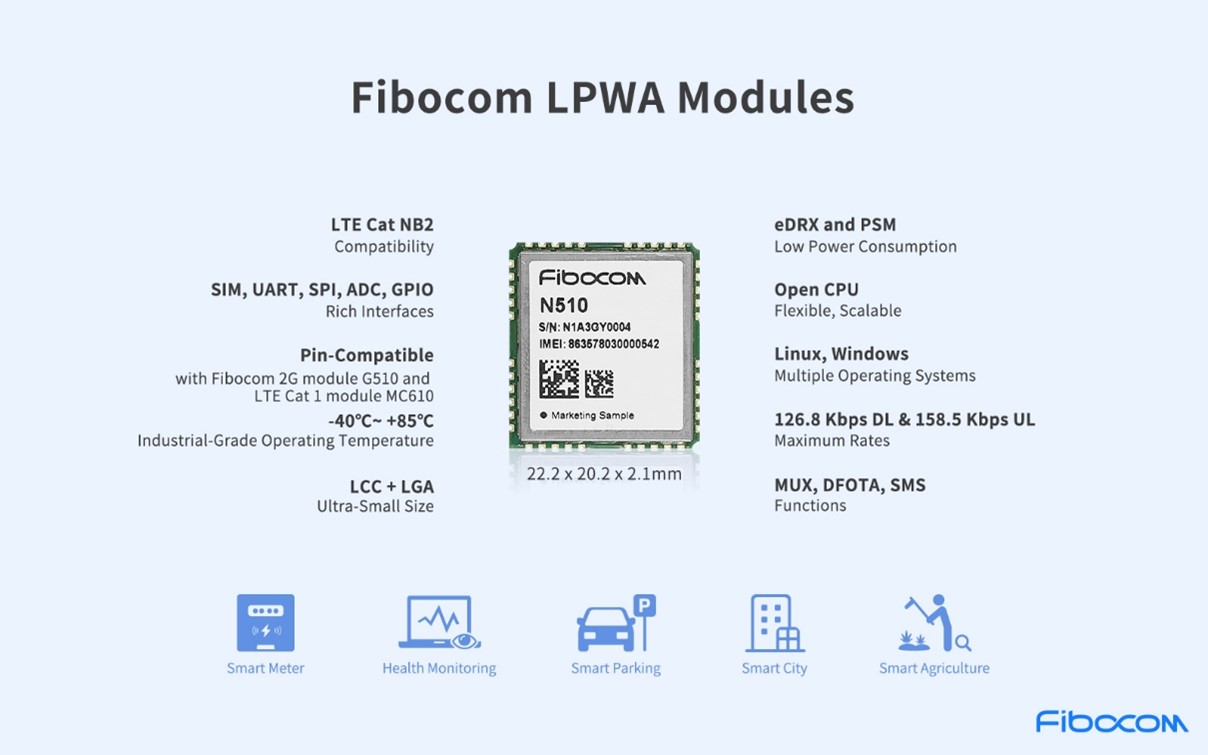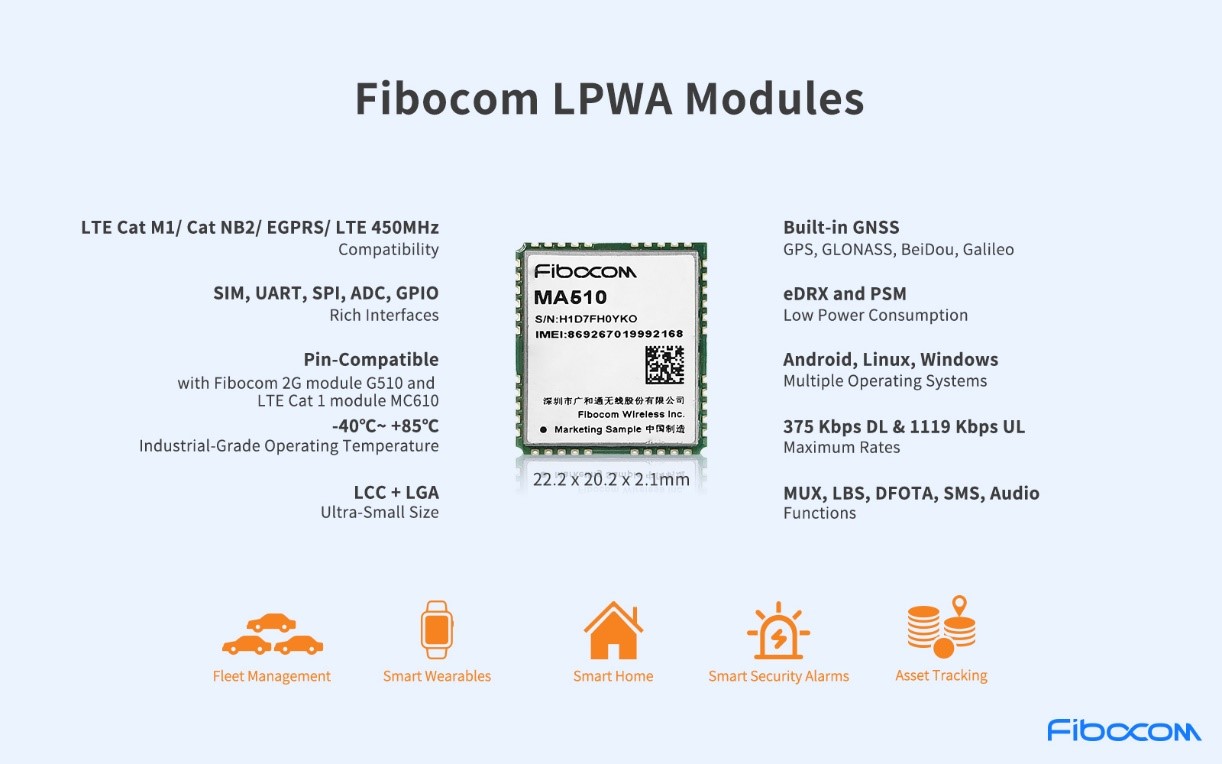 Fibocom's LPWA modules have been certified by various regional telecom operators (T-Mobile, Deutsche Telekom, Verizon, AT&T, Sprint, Vodafone, Telefonica), industry associations (HF, GCF, PTCRB) and local regulations (RoHS, RCM, NCC, IC, Reach, Anatel, CE, TELEC, JATE, CE-RED, FCC), aiming to satisfy different deployment requirements for customers worldwide.
For more information, please visit:
Resources
Join 97,426 other subscribers

Archives