16×32 RGB Matrix Panel Driver Arduino Shield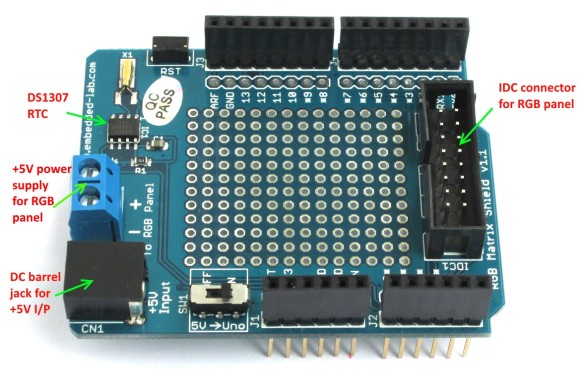 Raj @ embedded-lab.com has revised his RGB Matrix Display Shield to an improved version.
The shield now also carries the DS1307 RTC chip on board along with a CR1220 coin cell battery holder on the back. It is applicable for driving popular 16×32 RGB matrix panels with HUB75 (8×2 IDC) connectors. Row and column driver circuits are already built on the back side of these matrix panel. The data and control signal pins for driving rows and columns are accessible through the HUB75 connector. It requires 12 digital I/O pins of Arduino Uno for full color control.
16×32 RGB Matrix Panel Driver Arduino Shield – [Link]