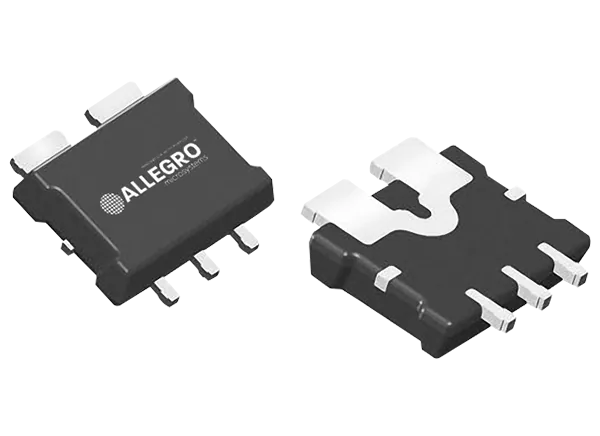 Allegro MicroSystems ACS72981 Linear Hall-Effect Current Sensor ICs
Allegro MicroSystems ACS72981 High-Precision Linear Hall-Effect-Based Current Sensor ICs are economical and precise AC or DC sensing solutions. The ACS72981 features a 250kHz bandwidth ideal for motor control, load detection and management, power supply and DC-to-DC converter control, and inverter control. Additionally, the <2μs response time enables overcurrent fault detection in safety-critical applications.
The Allegro MicroSystems ACS72981 Linear Hall-Effect Current Sensor ICs combine a precision, low-offset linear Hall circuit with a copper conduction path near the die. Applied current flows through the copper conduction path and generates a magnetic field which the Hall IC converts into a proportional voltage. The close proximity of the magnetic signal to the hall transducer optimizes the device's accuracy. The low-offset, chopper-stabilized BiCMOS Hall IC supports a precise, proportional output voltage, which is pre-programmed for accuracy. Proprietary digital temperature compensation technology dramatically improves the zero output voltage and output sensitivity accuracy over temperature and lifetime.
The output of the device increases when current flows through the primary copper conduction path (from terminal 5 to terminal 6), which is the path used for current sampling. The internal resistance of this conductive path is 200μΩ typical, providing low power loss and increasing power density in the application.
Features
High-bandwidth 250kHz analog output
Less than 2μs output response time
3.3V and 5V supply operation
Ultra-low power loss of 200μΩ internal conductor resistance
Industry-leading noise performance and increased bandwidth through proprietary amplifier and filter design techniques
Greatly improved total output error through digitally programmed and compensated gain and offset over the full operating temperature range
Small package size, with easy mounting capability
Monolithic Hall IC for high reliability
Output voltage proportional to AC or DC currents
Factory-trimmed for accuracy
Extremely stable zero amp output offset voltage over temperature and lifetime
Typical Application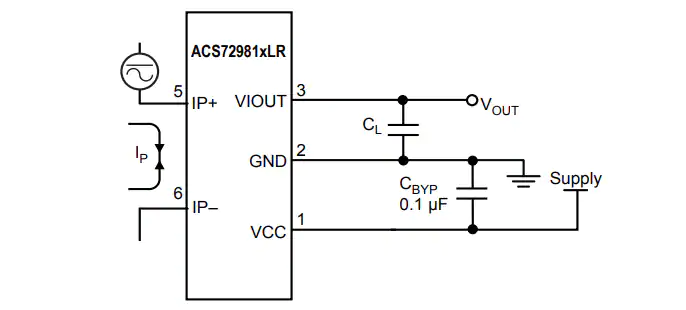 The sensor employs differential sensing techniques that virtually eliminate output disturbance due to the common-mode interfering magnetic field.
The copper conductor's thickness allows the device's survival at high overcurrent conditions. The terminals of the conductive path are electrically isolated from the signal leads (pins 1 through 3).
The device is fully calibrated and supports 5V or 3.3V power supplies. The ACS72981 has a heavy gauge lead frame is made of oxygen-free copper.
Join 97,426 other subscribers

Archives