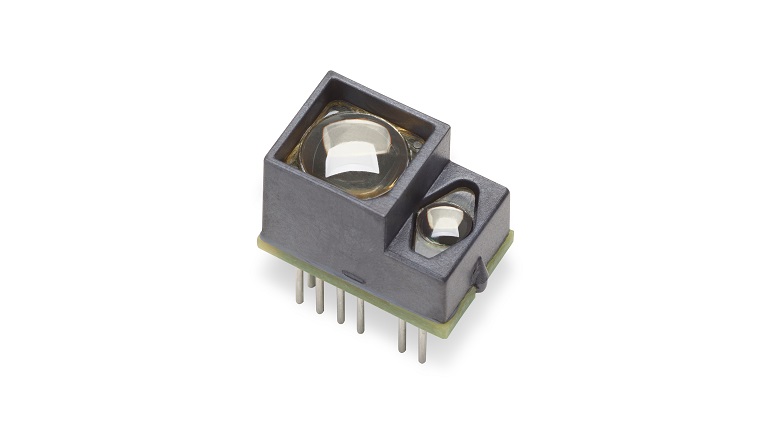 Broadcom AFBR-S50MV85I time-of-flight sensor module
AFBR-S50MV85I is a multi-pixel optical distance and motion measurement sensor module, based on the optical Time of Flight principle
AFBR-S50MV85I is a multi-pixel optical distance and motion measurement sensor module, based on the optical Time of Flight principle. The technology has been developed with a special focus on applications with the need for the highest speed and accuracy at medium distance ranges, with small size and very low power consumption. Due to its best-in-class ambient light suppression, use in outside environments is possible in full sunlight. The sensor accurately measures against white, black, colored as well as metallic and retroreflective surfaces.
Key features
Very Fast Measurement Rates: up to 3 kHz
Operation up to 200 kLux
Multipixel for 3D Motion Detection
Accuracy Error Typically Below ±1%
Additional features
An integrated calibrated clock source
Unambiguous range up to 100 m in 2f mode
Reference Pixel for system health monitoring
Laser Class 1 eye safety ready
Additional Info
The module has an integrated infrared laser light source and an internal clock source. A single power supply of 5.0 V is required. Data is transferred using a digital Serial Peripheral Interface (SPI) using standard 3.3 V CMOS levels. For system health monitoring a Reference Pixel is used in addition to the integrated voltage and temperature sensors. Frame rates of up to 3 kHz are supported, depending on the Microcontroller, the data streaming mode, and the number of evaluated pixels. For frame rates of up to 100 Hz, a dual-frequency (2f) mode is used to achieve an unambiguous range of 50 m in short-range and 100 m in long-range mode.
Available tools
https://www.broadcom.com/products/optical-sensors/time-of-flight-3d-sensors/afbr-s50mv85i