Cosmo Communicator Smartphone Runs Android 9 or Linux
Planet Computers has launched Cosmo Communicator, a dual-screen clamshell-based mobile communicator. It is built to serve as a pocket computer, a mobile phone, and a high-resolution camera. The Cosmo has dual color displays. One 2″ display serves as an external color touchscreen for easy phone call control and notifications, while the other is inside. The inside display is an ultra-wide 6" colour touchscreen along with a full functioning keyboard embedded into the device. When opened, the clamshell serves as a support base to the device, allowing the user to type conveniently. The backlit keyboard enables the user to easily work at night or in dark spaces without the need for external lighting.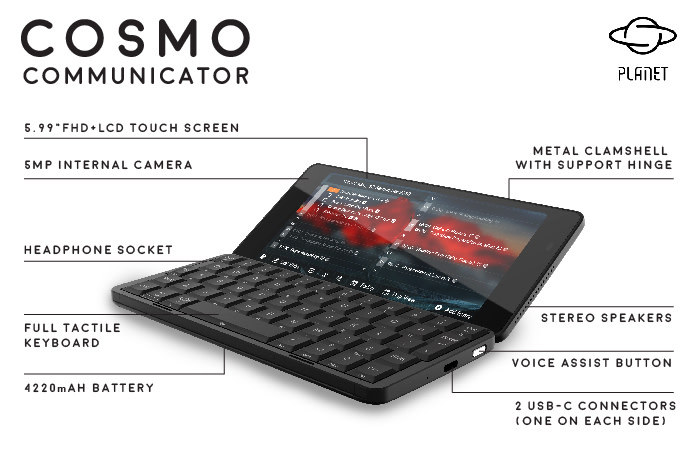 The Cosmo Communicator is equipped with a 24MP camera (zoom and flash supported) which you can operate without opening the clamshell. The Cosmos supports 4G LTE phone modem to enable dual 4G SIM connections, for both phone calls and data. It also features Bluetooth, NFC and Wi-Fi communications. Cosmo's toggle switch enables high security for the device with an incorporated fingerprint sensor and call answer buttons, so you can avoid accepting calls accidentally when the device is in your pocket or handbag. The Cosmo is based on MediaTek P70 8-core processor plus separate GPU and AI processors. It is equipped with a 6GB RAM and 128 GB Flash memory. MicroSD expansion memory slot is also available.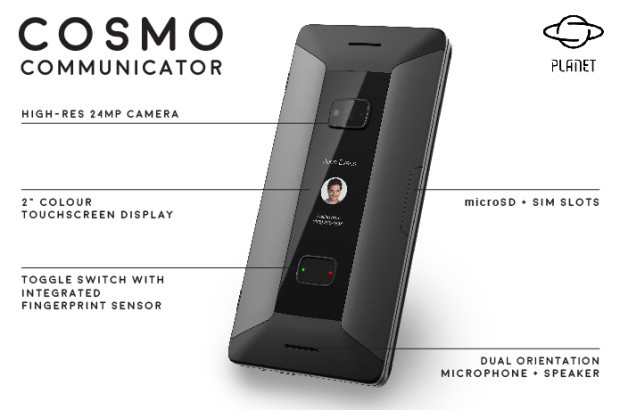 The device is equipped with a 4220 mAh battery, which provides enough power for a day or even two days of usage. The Cosmo enables their users to work in restricted spaces comfortably. You can also hold the Cosmo and use it with ease standing up or while on the bus. It's size is small enough to fit in your pocket and it can serve as a replacement for both your mobile phones and your laptop. Cosmos was launched in September in an Indiegogo campaign and although campaign is finished it is still available for purchase as an in-demand product 596 + plus shipping. Delivery is scheduled for May / June 2019. Retail price is expected to be $799.
Overview Video
Cosmo Communicator preliminary specifications:
SoC – Mediatek P70 octa-core processor with four Arm  Cortex A73 cores @ up to 2.0GHz, four Cortex A53 cores @ up to 2.0GHz, Arm Mali G72 MP3 GPU  @ 800MHz, and a  Dual-core mobile AI processor (APU)
System Memory – 6GB RAM
Storage – 128GB flash, microSD card slot
 Displays
Main Display – 5.99″ touchscreen display with 2160×1080 resolution (FHD+ 18:9),  scratch resistant glass
External Display – 2.0″color AMOLED touchscreen display with  570 x 240 resolution, scratch-resistant glass
Wireless  Connectivity – Cellular, GSM,  CDMA,  WCDMA,  LTE worldwide modem (Cat.7 DL / Cat. 13 UL ), VoLTE,  ViLTE &  VoWiFi compatible
Dual SIM operation (Dual-SIM / 1 x eSIM)
Dual 4G Modem
Dual-band 802.11a/b/g/n/ac Wi-Fi 5
Bluetooth 4.2
GPS plus AGPS
NFC
Camera – 24MP external camera,  5MP internal camera
Audio – Stereo speakers,  integrated ambient microphone, 3.5mm audio jack, FM Radio
USB – 2x USB Type C ports with OTG support, HDMI out via adapter cable
User Inputs – Backlit mechanical full keyboard, a dedicated button for voice commands, call answer buttons integrated with a fingerprint scanner
Sensors – Accelerometer, compass, light sensor, gyro, magneto-sensor, fingerprint scanner
Battery – 4,220 mAh Li-Ion battery
Dimensions – 17.14(W) x 7.93cm(D) x 1.6(H)cm
Weight – Approx 320g
You may find more details on the www.indiegogo.com campaign.