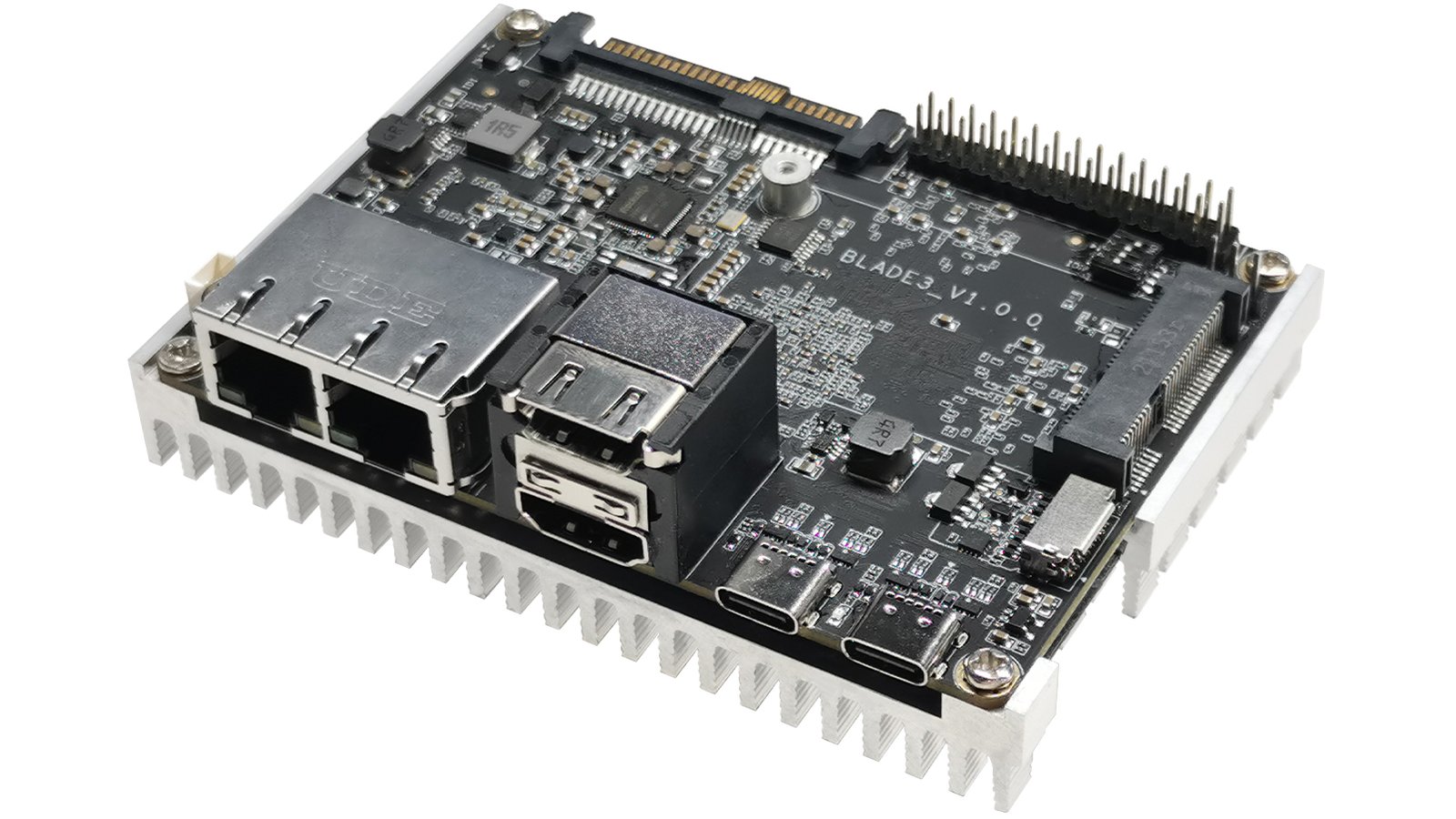 Eight-Core Mixtile Blade 3 is a High-performance Pico-ITX Single-Board Computer
The Internet of Things (IoT) hardware specialist Mixtile, has been preparing to launch a crowdfunding campaign for its compact computer Blade 3. Mixtile's Blade 3 is a stackable, affordable single-board computer powered by the 8nm Rockchip RK3588 processor. The leading-edge technology, Blade 3 offers powerful, energy-efficient computational support for a wide variety of applications. It is perfect for rapid development, AI-application prototyping, and edge computing.
It has high-performance computing for advanced computer vision and multimedia connectivity through the dynamic integration of hardware and software. This single-board computer was designed with a focus on cluster operation. Blade 3 can be connected in a cluster configuration through its onboard PCIe Gen3 edge connectors that enable it to integrate several high-performance hardware platforms in a small form factor. It targets everything from a single-unit deployment to a high-density clustering and allows you to cluster multiple Mixtile Blade 3 SBCs to scale your deployment.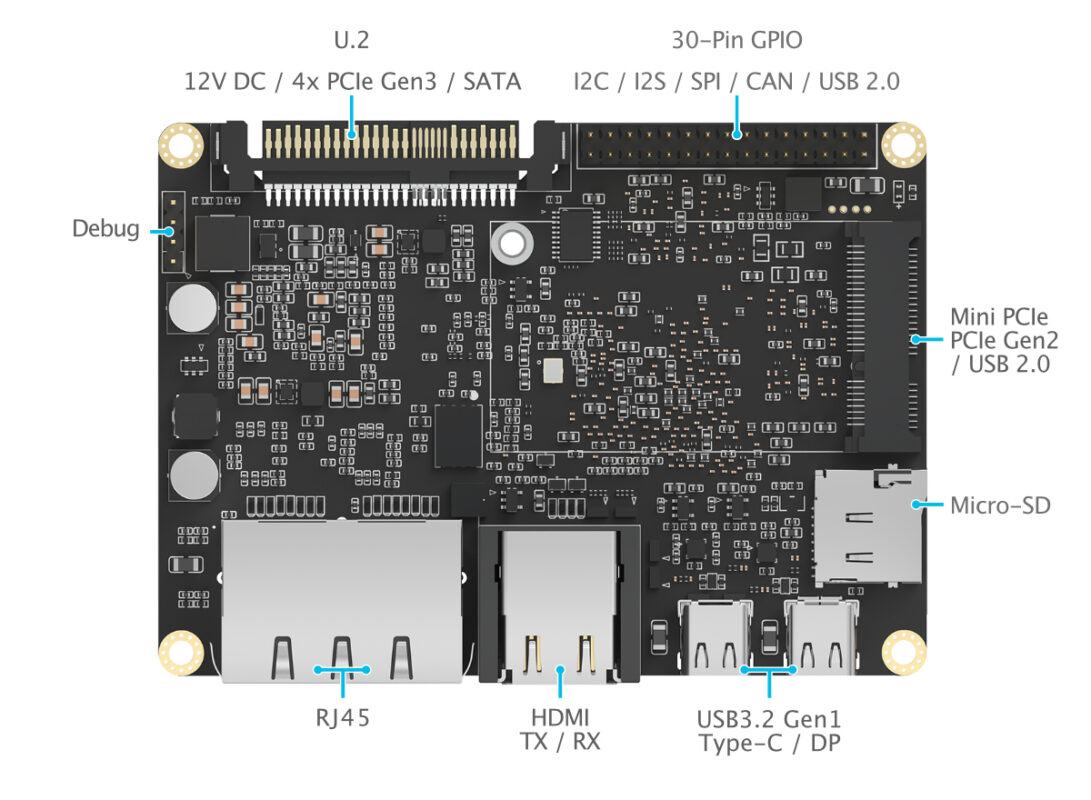 The main component of this board is Rockchip's RK3588, which is an eight-core processor with four high-power Arm Cortex-A76 cores running at 2.4GHz and four lower-power Cortex-A55 cores running at 1.8GHz. This SBC also contains an onboard neural processing unit (NPU) to enhance the edge AI workloads while offering up to 6 TOPS peak compute performance, and configurations offering up to 32GB of LPDDR4 RAM and up to 256GB of eMMC storage with an option to expand using the microSD expansion slot.
Mixitile Blade 3 Technical Specifications
CPU: Rockchip RK3588 Octa-core processor Cortex-A76/A55
NPU: Up to 6 TOPS
Memory: Up to 32 GB LPDDR4 memory
Storage: Up to 256 GB eMMC storage
Storage expansion: 4-lane PCIe Gen 3 in U.2 port, SATA 3.0 in U.2 port, Micro-SD 3.0 flash socket
HDMI interface: HDMI 2.1 output (8K at 60 FPS or 4K at120 FPS), HDMI 2.0 input (4K at 60 FPS)
Video encoder: H.264/H.265 video encoder up to 8K at 30 FPS
Video decoder: H.265/H.264/VP9 video decoder up to 8K at 60 FPS
Display: 4-lane MIPI-DSI
USB: Dual USB 3.2 Gen 1 Type-C ports with DisplayPort 1.4 A
PCIe expansion: Mini-PCIe socket with PCIe Gen 2.1
Ethernet expansion: Dual 2.5 gigabit Ethernet ports
GPIOs: 40-pin GPIO socket that can be used as Digital I/O, I²C, USB 2.0, TTL UART, SPI, I²S
Software support: Preload customized Debian 11, Linux distributions and Android 12
Power: 12 V DC standard SATA power
Dimensions: 2.5-inch Pico-ITX form factor, 100 x 72 mm
Operating temperature: 0 to +80° C
The Blade 3 board is powered by a SATA power connector as a 12V input. It offers connectivity including HDMI 2.1 output at 8k60 and an HDMI 2.0 input at 4k60. There is also a general-purpose input/output (GPIO) header that offers I2C, USB 2.0, UART, SPI, I2S, and CAN connectivity for hardware expansion.
Mixtile Blade 3's hardware, functioning together, gives a network speed of up to 20 Gb/s and a memory bandwidth of up to 136 GB/s. A cluster of Mixtile Blade 3, in a 19-inch 2U chassis, can provide up to 600 processor cores with 1320 GHz of computing power while using less than 1500 W of power. Meanwhile, on the software side, the board is designed to run both Linux and Android. It runs a hybrid Android and Linux distribution that operates Android 12 within a Linux container because of its plenty of driver support, making the software development process easy.
To learn more about the board, head over to the crowd supply page of  Mixtile Blade 3
Join 97,426 other subscribers

Archives