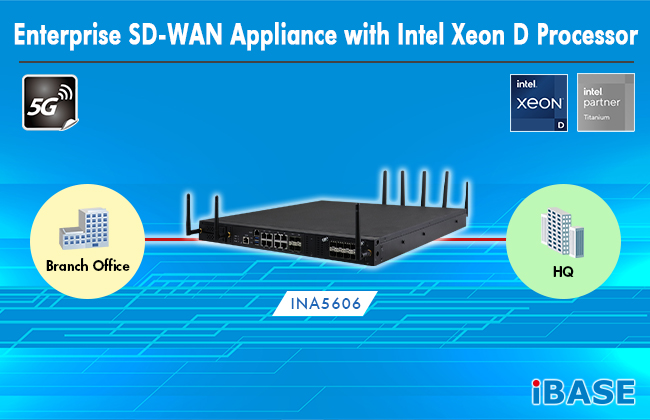 Enterprise SD-WAN Appliance with Intel Xeon D Processor
IBASE Technology Inc., a leading provider of IPC products and networking platforms, is proud to release one of our first uCPE/SD-WAN products – INA5606. The INA5606 enterprise-level network appliance supports WiFi 6 and LTE up to Cat20/5G, and Intel's next-generation Xeon D HCC processor with up to 20 CPU cores and a processing speed of up to 2.9GHz, creating a solid foundation for network function virtualization. The integrated Xeon D processor with QAT delivers high-performance acceleration for network transformation at the enterprise edge.
"The SD-WAN uses software-based network technologies to virtualize WAN connections that allow enterprises to leverage any combination of transport services, including MPLS, LTE, 5G and broadband internet services, and to securely and intelligently connect between branch offices and HQ data center or retail stores and enterprise cloud." said Jesse Chiang, senior director of IBASE's Netcom Products Business Division. "The INA5606 is designed to assist enterprises in centralized monitoring and management, enable stable and efficient cross-regional network transmission, reduce total cost of ownership, and simplifies deployments with ZTP (Zero-Touch Provisioning)."
INA5606 FEATURES:
Intel® Xeon® D Processor
4x DDR4 DIMMs, Max. 256GB RDIMM or Max. 512GB LRDIMM
8x GbE RJ45 with 2 pair bypass & 4x 25GbE SFP28 on board
1x M.2 for LTE/5G with dual SIM slot
1x Mini PCI-E for WiFi / WiFi 6
2x 2.5" SATA/NVMe Swappable HDD/SSD
Optional 1x PCI-E x16 Expansion Slot (by SKU)
Optional 1x IBN-NIC Slot (by SKU)
Optional IPMI 2.0 Module

IBASE's INA5606 features up to eight 1G copper ports and four 25G fiber ports, with additional module space for an optional Ethernet module, allowing customers to flexibly configure the ports as needed. It has two WAN ports that enable secure internet connectivity and VPN support in SD-WANs that have replaced traditional and expensive MPLS private lines in enterprises. In addition, INA5606 also supports wireless connectivity via an LTE/5G module with dual SIM cards.
Measuring 438(W) x 450(D) x 43.8(H) mm, the INA5606 1U uCPE/SD-WAN appliance is equipped with four DDR4 slots, up to eight GbE ports, four 25 GbE SFP28 ports, an 800W CRPS 1+1 redundant power supply and standard Linux support.
Subscribe to Blog via Email
Join 97,462 other subscribers
Archives