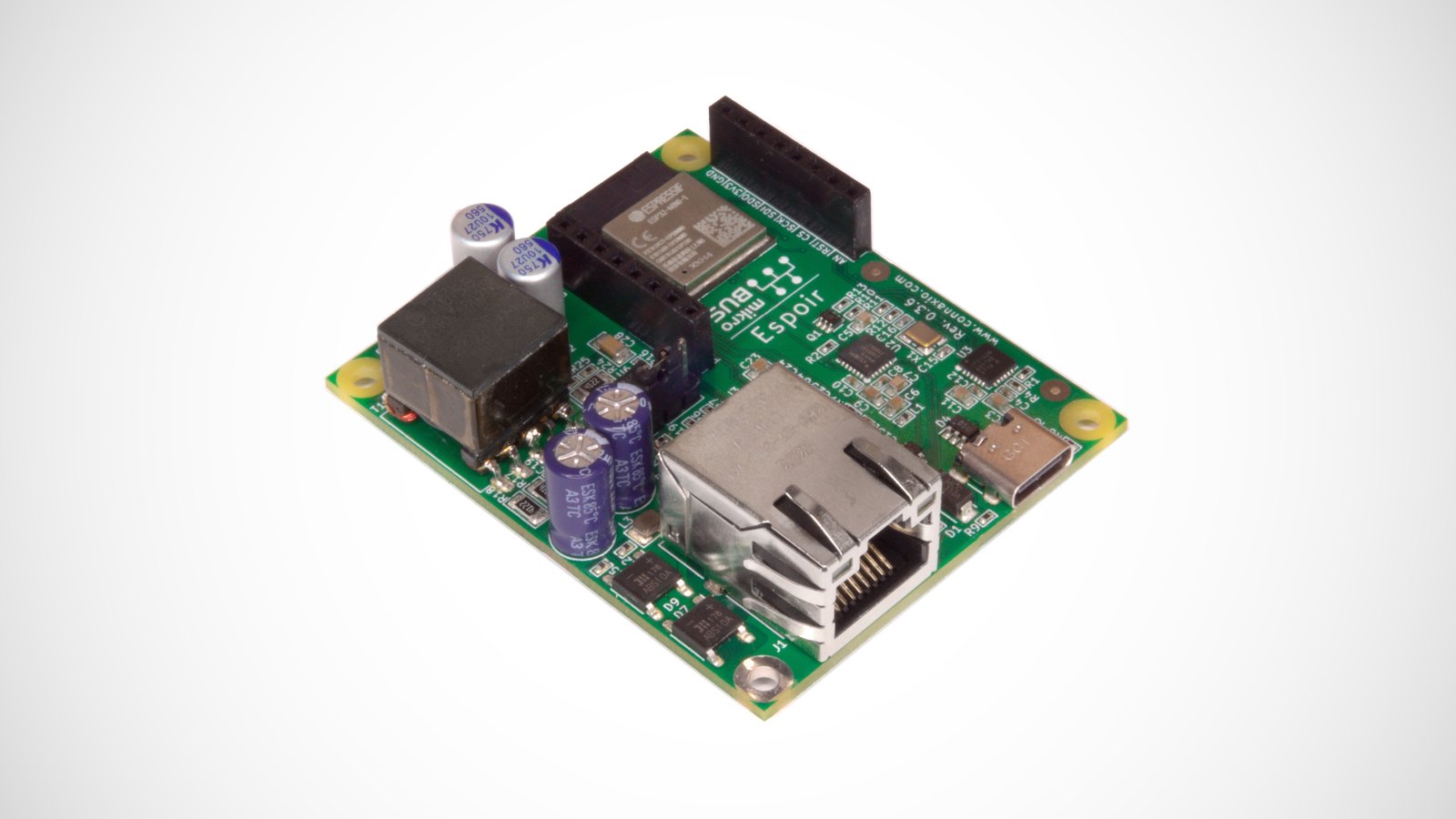 Espoir, an open-source ESP32-powered PoE+ board with mikroBUS header
There have been several crowdfunding campaigns in recent times, but most of them deal with single-board computers, radio modules, and development boards. Some of the most recent coverage includes the Mixtile Blade 3 and STEPFPGA development boards. Raspberry Pi Foundation recently announced the launch of PoE+ HAT specially designed for Raspberry Pi single-board computers that support the IEEE 802.3at-2009 PoE standard. Quebec-based open-source IoT automation electronics manufacturer, Connaxia, has announced a crowdfunding campaign on CrowdSupply which is yet to go live. The new project is a fully compliant Power over Ethernet+ board that is fueled by an ESP32 microcontroller– Espoir.
At the heart of the board is the ESP32-MINI-1 processor that features an ESP32-U4WDH embedded with ESP32-MINI-1 microprocessor clocked at a frequency of 240MHz. The tightly integrated chip also comes with a 448kB ROM and 520kB SRAM of which 16kB is used in RTC. Also, on the wireless connectivity side, the ESP32-MINI-1 processor supports IEEE802.11b/g/n Wi-Fi and Bluetooth v4.2 BR/EDR and Bluetooth LE.
Specifications of Espoir PoE+ board:
SoC: ESP32-MINI-1 processor

Processor core: Single-core or dual-core processor
Clock frequency: 240MHz
Storage: 4MB flash storage
Memory: 520kB SRAM

Wireless connectivity: IEEE802.11b/g/n Wi-Fi and Bluetooth 4.2 and Bluetooth LE
USB ports: USB 2.0 via USB Type-C connector
Expansion: 100Base-T Ethernet port, expansion headers with two grounds, 4x additional only input pins, and ESP32 reset signal
Interfaces: mikroBUS socket with two grounds
IOs: 12
Weight: 31 grams
Dimensions: 50.8×61.0 mm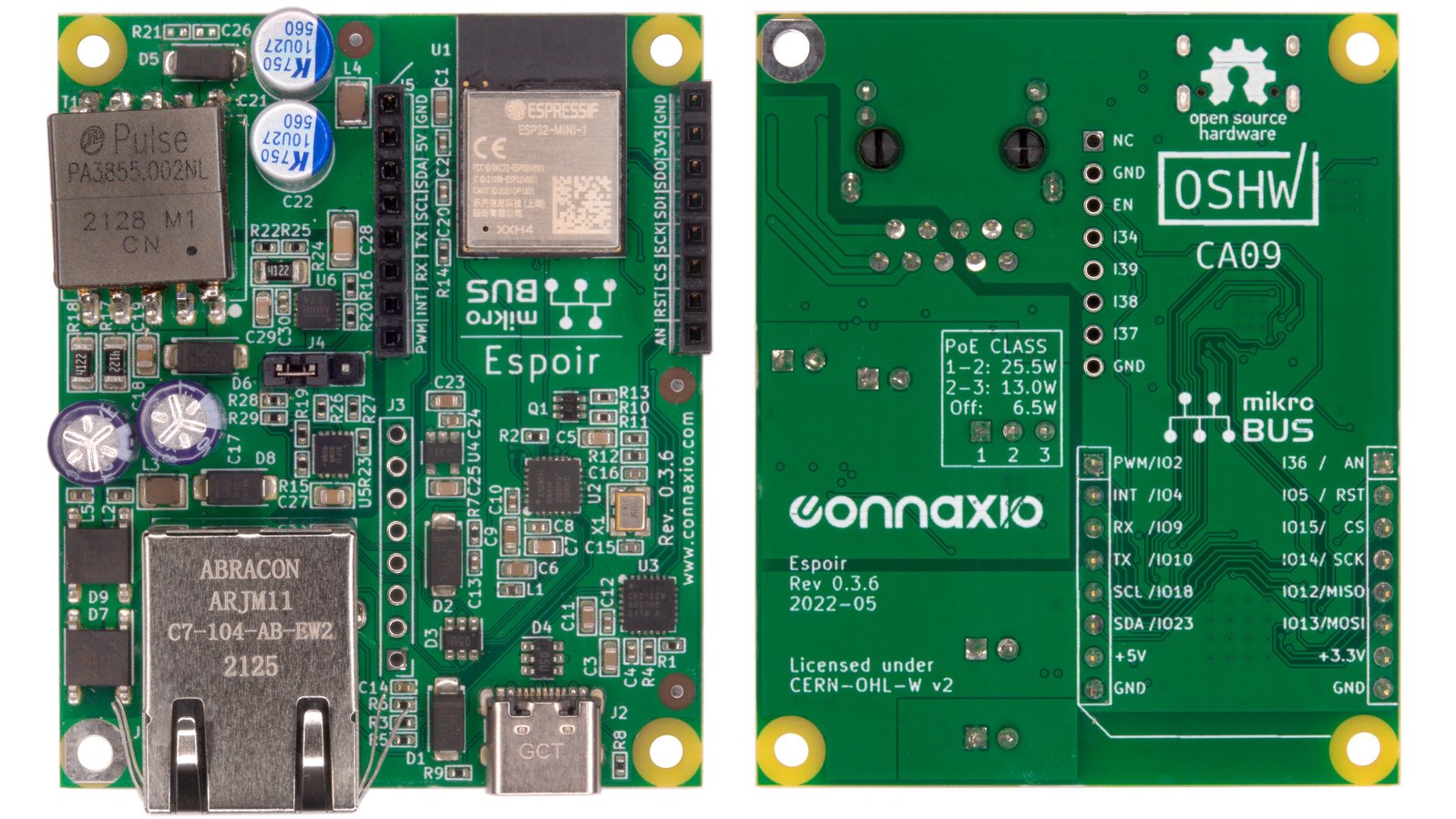 Open Source Hardware Associated certified PoE+ board brings mikroBUS headers to provide the flexibility to interface off-the-shelf modules and sensors. In addition to the Espoir PoE+ board, the manufacturer has also provided two add-on boards to get started– mikroShields. The IO One mikroShield is designed to provide 9 signal-voltage-ground 3-pin connector, a temperature and humidity sensor as well as an I2C connector. This board is designed for agricultural and gardening IoT applications. The other board is the Pmod compatible mikroShield to provide 12-pin header for a way to connect Pmod compatible devices and wired extension modules.
As an open-source project, the project files are detailed documentation and files are available on the official project page. Also, Espoir PoE+ board has not yet launched on CrowdSupply and is currently under pre-launch phase, you can still sign up on the project page to get timely notifications.
Join 97,426 other subscribers

Archives