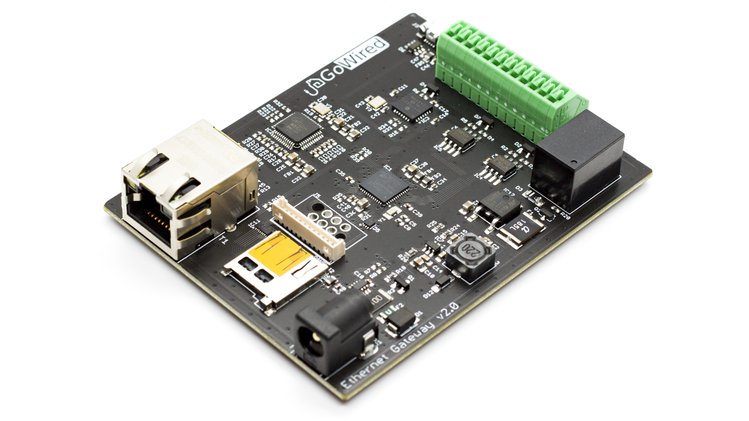 GoWired Multiprotocol Gateway With More Power and Versatility
GoWired Multi-Protocol GateWay is an amplified version of GetWired Ethernet Gateway. It is furnished with enhanced power features and versatility geared towards providing improved solutions for wired automation applications. The board is designed to allow automation engineers and hobbyists to implement AI and ML protocols looking at the skyrocketing the duo has brought to the automation field.
Compared to the earlier GetWired Ethernet Gateway, GoWired features an ARM M0+ microcontroller with multiplication factors of 8 and 16 for ROM and RAM respectively. It has a double RS485 transceiver that helps in the execution of two different communication protocols in a group, alongside a CAN transceiver. The GoWired also features the celebrated Wiznet W5500 chip for reliable Ethernet communication, SD card slot for internal memory expansion, and enhanced power circuitry to handle DC voltages of 7 – 26V range. There's also an onboard monitoring mechanism to monitor and share power-related data about the condition of the device. The device is also reliable and safe to use.
Key Features and Specifications of the board include:
Powerful 32-bit ATSAMD21G18A ARM M0+ microcontroller with 32 kB RAM and 256 kB ROM, 48 MHz
Wiznet W5500 Ethernet transceiver with hardware TCP/IP stack
Power and current monitoring for all connected devices (provided that the devices are powered from the Gateway)
1x USD card slot for debugging and other purposes
Supports 3 different communication standards (RS485, CAN, USB) and 4 different protocols at the same time (doubled RS485 transceiver)
Protection against ESD, overcurrent, overvoltage, reverse polarity
Offers EMC & EMI protection
Extension board with e-ink display
LEDs and buttons which are mounted on the enclosure
Four-slots DIN rail enclosure
Reliable and Safe to use
Software features
The Gowired Multiprotocol Gateway is:
compatible with Arduino, but can be tweaked to suit user's demands
easy to use as it has Plug & play compatibility with most open-source home automation controllers (Domoticz, Home Assistant and several others)
privacy-friendly, and can work without internet access (you don't need to connect to cloud)
open source, modifiable, configurable and ready to use
As of the time of this writing, there is no availability of this board for commercial purposes as the campaign for a crowdfunding, support, and launching for the GoWired Multiprotocol Gateway project is yet to take place. However, further useful information can be found on the CrowdSupply page. You can sign up to be notified when this project launches. GoWired also points to Github for more details on the Software.
Join 97,426 other subscribers

Archives