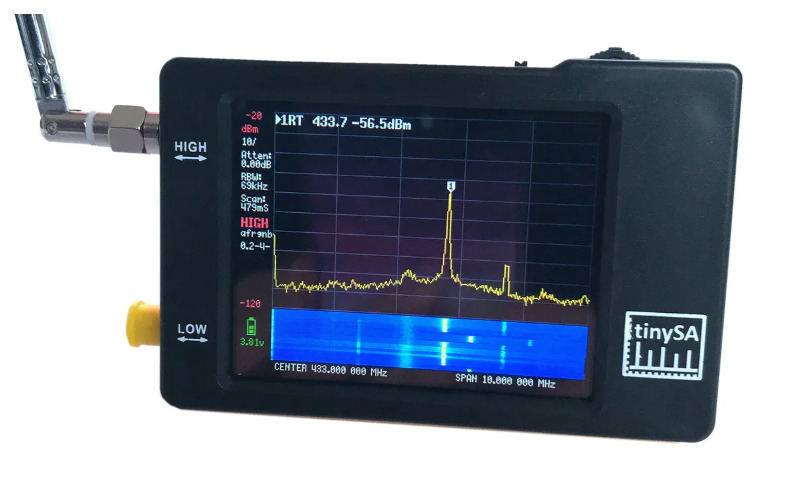 Hugen Launches Portable TinySA Spectrum Analyser
RF testing is getting quite popular these days, with many devices featuring wireless capabilities. However, RF test devices are quite expensive, therefore slowing down it's popularity. However, there's a new RF test device in town which is very affordable, called the TinySA. Under development since February, the RF is now available for pre-order. The tinySA is a small spectrum analyzer having dual inputs. One of the input enables working frequencies over the MF/HF/VHF bands of 100KHz to 350MHz and the second input enables a lower quality frequency measurements over the UHF band of 240MHz to 960MHz. The tinySA is part of Huyen's stable of products aimed at radio amateurs, students, and electronic enthusiasts.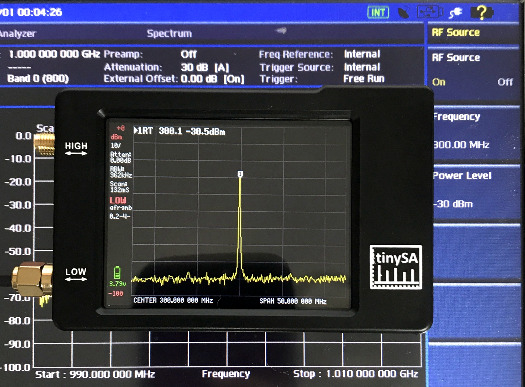 It features a switchable resolution bandpass filters for both ranges between 2.6kHz and 640kHz. The tinySA also features a 2.8" color display screen showing 290 scan points covering up to the full low or high-frequency range. It Input Step attenuator can be set from 0dB to 31dB for the MF/HF/VHF input, but the UHF input cannot exceed 10dBm. Another key feature of the tinySA is that when not used as Spectrum Analyzer it can be used as Signal Generator, MF/HF/VHF sinus output between 0.1MHZ-350MHz, it can output a sinusoid with harmonics lower than -40dB of fundamental at an output point that is pickable in 1 dB steps between -76dBm and -6dBm. It also features an optional AM and FM module or a moderate brush over the selective frequency range (UHF square wave output between 240MHz-960MHz).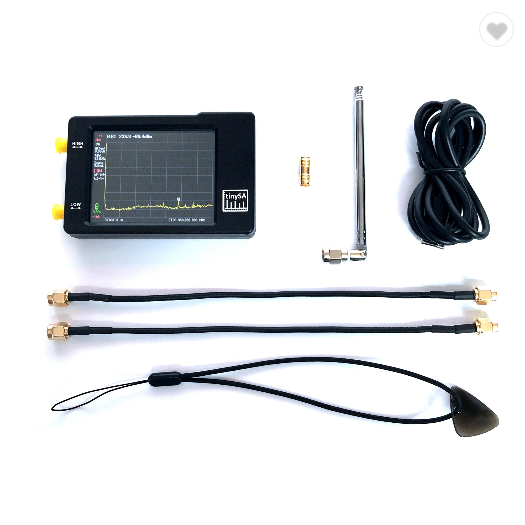 The tinySA also features a built-in calibration signal generator that is used for automatic self-test and low input calibration. The tinySA can be connected to a PC via USB it becomes a PC controlled Spectrum Analyzer. The device also features a rechargeable battery allowing a minimum of at least 2 hours of portable use. Priced at just $49, the tinySA is a perfect device that enables the user to get a full experience of what an individual can derive from a controller like a microcontroller and a few distinct RF components. There are a lot of scopes and PC-based scopes that can do spectrum analysis, but at this price, having a tinySA instrument might be worth it to you, especially if you don't care about frequency below 100 MHz. If TinySA is as competent as it is touted, it will be a winner and a very useful item for hobbyists and developers.
Specifications
Display resolution 320*240 pixels
Screen diagonal 2.8″
16 bits per RGB pixels
Resistive touch control
Jog switch control
USB serial port control
Optional TTL USART port (SW not yet implemented) on the internal PCB
Linear power supply to avoid switching noise.

The input/output specification of the tinySA is split over the 4 modes
Low input mode spec: Input frequency range from 100kHz to 350MHz
High input mode spec:Input frequency range from 240MHz to 960MHz
Low output mode spec:Sinus output with harmonics below -40dB of fundamental
High output mode spec:Square wave output. Output frequency range from 240MHz to 960MHz

Battery

Charging time max 1 hour on 500mA minimum USB port or USB charger
Operation on fully charged battery for at least 2 hours

Package inclued:
1x TinySA 2.8″ Spectrum analyzer
2x 20cm sma-sma rg174 rf cabe
1x USB Type-C Data Cable
1x Hand rope
1x SMA female to female connector
1x SMA telescopic antenna
There is currently no clone of tinySA. All are genuine and manufactured by Huyen. About pre-order, the company says
"Pre-order means there is currently no stock but a next batch of tinySA is being manufactured and as soon as these are available (usually within one month) the pre-ordered products will be shipped in order sequence."
Due to the low cost and very small form factor, there are certain relevant limitations, which you can find here. You can pre-order the TinySA on Alibaba. For more information, visit the announcement page for full specs and a 7-minute video.