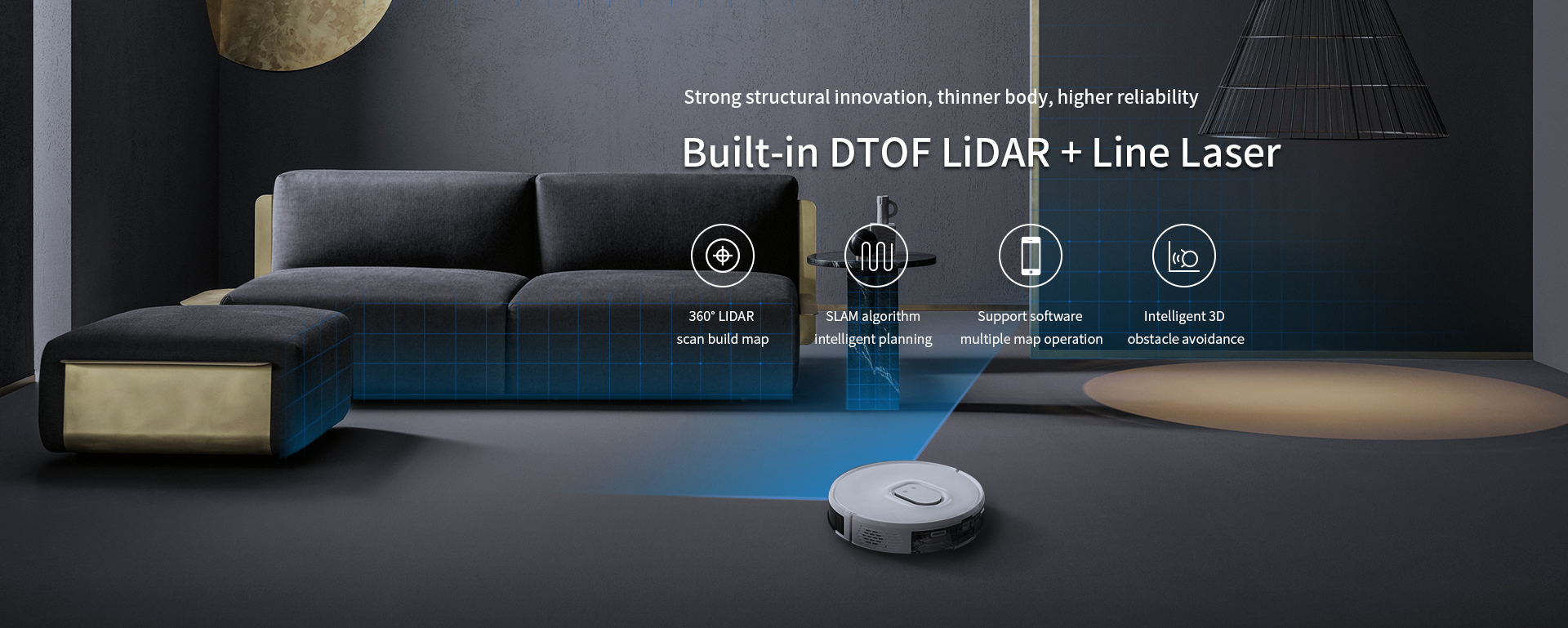 LD-AIR LiDAR | 360° TOF Sensor For All Robotic Applications
We are super excited to tell you that LD-AIR LiDAR just went LIVE on Kickstarter. With 360° scanning range and only 3.48cm thickness, it is a Compliant LiDAR Sensor that is Compatible To All Autonomous Robotic Applications.
LD-AIR LiDAR offers high accuracy sensing capability TOF LiDAR sensors to everyone at an affordable price starting from $129.
Using advanced technology, the TOF sensor in LD-AIR LiDAR is a highly accurate with 360° scanning range for precise scanning results every time.
Compared to other traditional laser scanners, LD-AIR LiDAR utilizes the Time of Flight technique to detect distance precisely within a 12 meters radius range. It emits an infrared laser forward and then the laser is reflected back into the single-photon receiving unit after encountering the target object. The gap between the time of laser emitting and receiving is the time of flight.
With its 360° rotation range, LD-AIR LiDAR can sense the surrounding environment with no dead corners to actualize obstacle detection and autonomously map any area.
For sample frequency, it can measure up to 4500 samples of laser ranging per second with high rotation speed which greatly increases the mapping speed.
Here are some features that make LD-AIR LiDAR unique:
Adopting Advanced Technology, LD-AIR LiDAR utilizes the Time of Flight measuring method to detect distance precisely with a range of 0.02 to 12m. With the 360° omnidirectional Scanning Range, LD-AIR TOF can sense its surrounding environment with no dead corner to actualize obstacle detection and autonomously mapping.
LD-AIR LiDAR is built to serve business and research purposes like robot navigation and obstacle avoidance, robot ROS teaching and research, and 3D environmental reconstruction, etc. It is also made for creative makers to create DIY drones or self-driving cars. Even can be used for Algorithm verification! It supports coding software like Raspberry PI, Python, C++, and Javascript, etc.
LD-AIR LiDAR can run perfectly in any conditions with 10000+ running hrs, IPX5 Water & Dust Proof, and Anti-ambient light 30000lux resistance.
LD-AIR LiDAR is an Ultra-small & Ready-To-Use laser sensor that is small and versatile enough to fit in any appliance.
Certified LD FDA Class 1 Laser Safety Standard, LD-AIR LiDAR adopts the low power infrared laser light as its light source and drives it by using a modulated pulse, ensuring both effectiveness and safety.

The campaign is live on Kickstarter and has 28 days to go.
Join 97,426 other subscribers

Archives