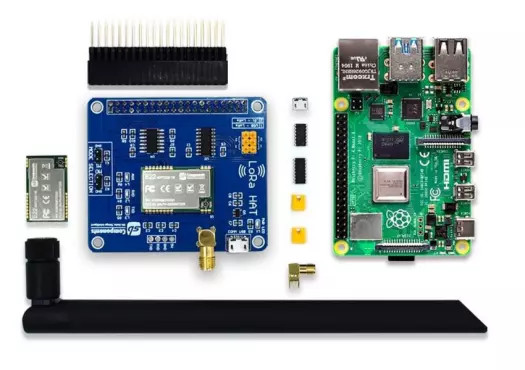 LoRa Hat Expansion For Raspberry Pi Starts at $40
Known for its DIY Robots and Hats for single board computers, SB Components has launched a crowdfunding campaign for its newest devices, LoRa Modules 868/433/915MHz — a LoRa HAT for Raspberry Pi and a LoRa Expansion for Pico, designed for data transmission of up to 5km with low power consumption, and support for auto repeating capability.
The LoRa HAT for Raspberry Pi incorporates Ebyte's E22-900T22S/E22-400T22S serial port module with 915/868/433MHz band and a Semtech SX1262/SX1268 module for its enhanced data communication in low power consumption. The HAT supports a 22dBm signal power with a range of up to 5km. The board features a 74HC125V voltage level translator, a UART communication interface, a wireless parameter config support, and a USB to LoRa and Pico to LoRa communication through a UART. The LoRa HAT for Raspberry Pi also features fixed-point transmission support, and SMA and IPEX antenna connector, and a support protocol for evaluating signal quality via the RSSI (Received Signal Strength Indicator).
Additionally, the board offers a Wake on Radio and Deep Sleep Mode to drive its installed applications and solutions in low-power consumption (a feature already mentioned). The LoRa HAT debuts a 40-pinout header including 3x GPIOs; 4x Power; 7x Ground; and 2x UART interfaces, a USB, and an antenna connector.
The LoRa Expansion for Pico board is based on the same E22 module, adding a pre-soldered Raspberry Pi and a 1.14-inch LCD, maintaining the same features as the LoRa HAT for Raspberry Pi.
Key Features and Specifications of LoRa HAT for Raspberry Pi and LoRa Expansion for Pico:
Serial Port module:

Ebyte E22-900T22S based on SX1262 @ 850 – 930 MHz band
Ebyte E22-400T22S based on SX1268 @ 410 – 493MHz band

Supported frequencies: 433 MHz / 868 MHz / 915 MHz
Range: Up to 5 km
SMA antenna connector
1x Micro USB
UART, GPIOs via 40-pin header, 74HC125V voltage level translator
LED: Indicators for Tx/Rx, AUX, and power
Serial/USB selection Jumpers:

Control Raspberry Pi with USB to UART (serial)
Control Raspberry Pi Pico with USB
There is no mention of particular software for the boards, but that shouldn't be a big deal since Ebyte E32 has compatibility with Raspberry Pi in existing projects. So, we can say there is software to start with, but maybe with some tweaking. The Ebyte LoRa E22 library with acclaimed compatibility with all architectures including the Arduino and ESP32.SX1262/SX1268 could also be useful.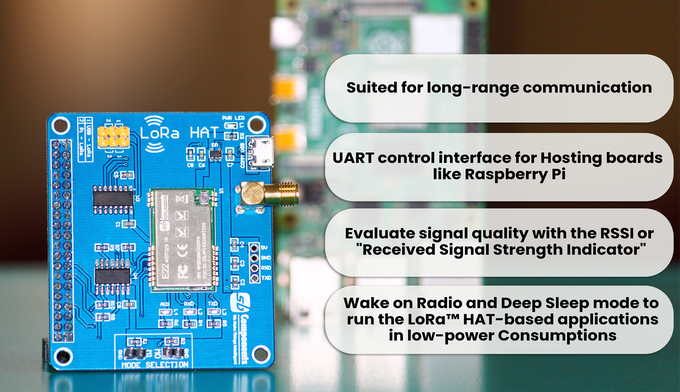 The LoRa 868/433/915MHz module is available on Kickstarter with four (4) rewards starting from $40 to $1,325 and more. Its campaign will end on Monday, January 3, 2022, for shipping to commence by February 2022. After the campaign, you'll be asked your preferred frequency like 433/868/915 Mhz and the company will provide you with the corresponding antenna.
"If anyone wants LoRa HAT for Pi in different frequencies then they can mark that frequency at the time of the survey,"
says Ashish.
The campaign also offers add-ons that you can use with the LoRa HAT. The duo mode is said to support communication between one another as I quote Ashish Kumar saying,
"the Lora HAT works with the LoRa network designed to make the communication easy in economical range. Yes, you should have two LoRa so that they can communicate with each other. We also provided addons HAT in the add-on section that you can use with LoRa HAT. Yes, you can communicate with pico Lora expansion and LoRa HAT for Pi or vice versa."
Other useful information on the SB component's device can be found on Kickstarter's page.
Join 97,426 other subscribers

Archives