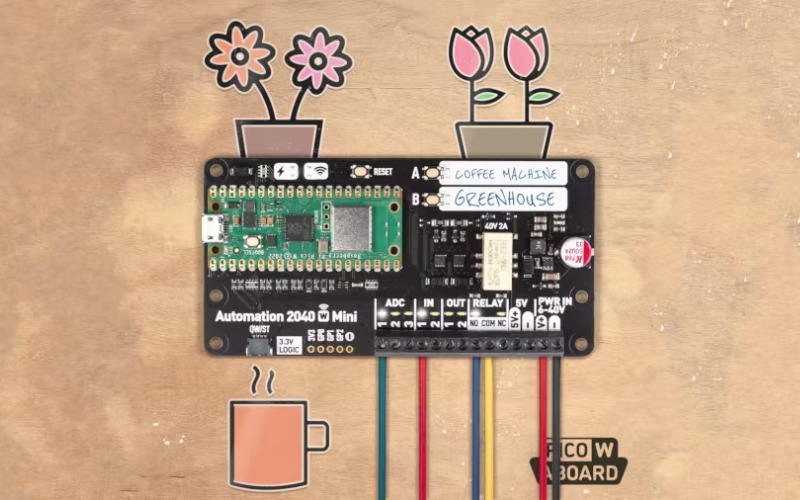 Pimoroni Automation 2040 W Mini– An industrial and automation controller with wireless connectivity
A UK-based embedded device manufacturer and supplier, Pimoroni Ltd., has launched an industrial and automation controller that can support 2.4GHz of wireless connectivity– Pimoroni Automation 2040 W Mini. The company has previously worked on a carrier board that could fit the Raspberry Pi Pico W development board, Pimoroni Inventor 2040 W. This time the Automation 2040 W Mini is taking a step forward to be able to hold the all-new Raspberry Pi Pico W.
Pimoroni has provided the hardware platform with many analog channels, powered outputs, buffered inputs, and a relay for industrial applications inside the automation controller. To control pumps, fans, solenoids, chunky motors, and electronic locks, the Pimoroni Automation 2040 W Mini is expected to serve the purpose.
Specifications of Pimoroni Automation 2040 W Mini:
Mainboard: Raspberry Pi Pico W
CPU: Dual-core Arm Cortex-M0+ running at up to 133MHz clock frequency
Memory: 264kB of SRAM
Flash memory: 2MB of QSPI flash supporting XiP
Wireless connectivity: 2.4GHz wireless
ADC: 3x 12-bit ADC inputs up to 40V
Digital inputs: 2x digital inputs up to 40V
Digital outputs: 2x digital sourcing outputs at V+
Relay: 1x relay
Buttons: 2x tactile buttons with LED indicators and a reset button
Connectors: 1x Qw/ST connector for breakout boards
Software: C/C++ and MicroPython libraries
Power supply: Compatible with 12V, 24V, and 36V systems, requires a supply of 6-40V and can provide 5V up to 0.5A for lower voltage applications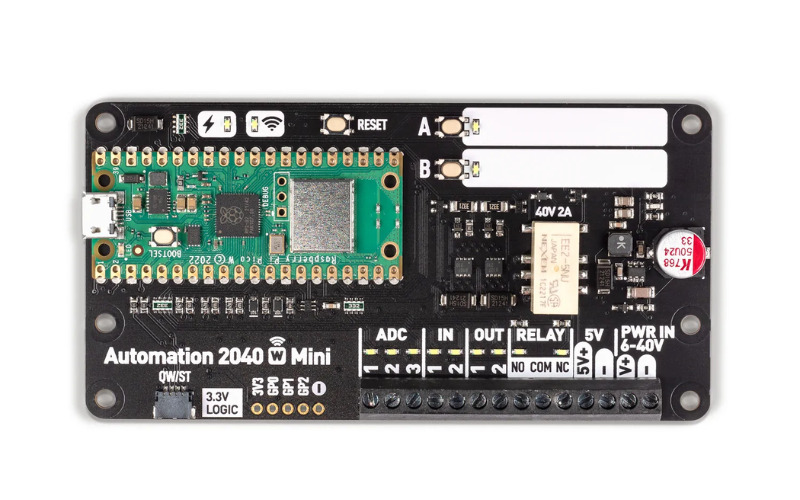 The carrier board has indicator LEDs to show what's happening with the setup and test the program without having hardware connected. For more digital inputs, outputs, and relays, the company has provided a larger board with 4x digital inputs, 3x digital sourcing outputs, and 3x relays. Also, if the user wants to mount the board inside the switch cabinet or any other electrical enclosure, Pimoroni has provided DIN rail mounts, specifically for the carrier board.
For connecting external breakout boards, the Pimoroni Automation 2040 W Mini carrier board has Qw/ST connector that makes it easy for the user to connect up Qwiic or STEMMA QT breakouts. The developer can directly plug it in with a JST-SH to JST-SH cable.
The board is currently available for sale on the official manufacturers' website for £39 (approx. $43 USD).
Join 97,426 other subscribers

Archives