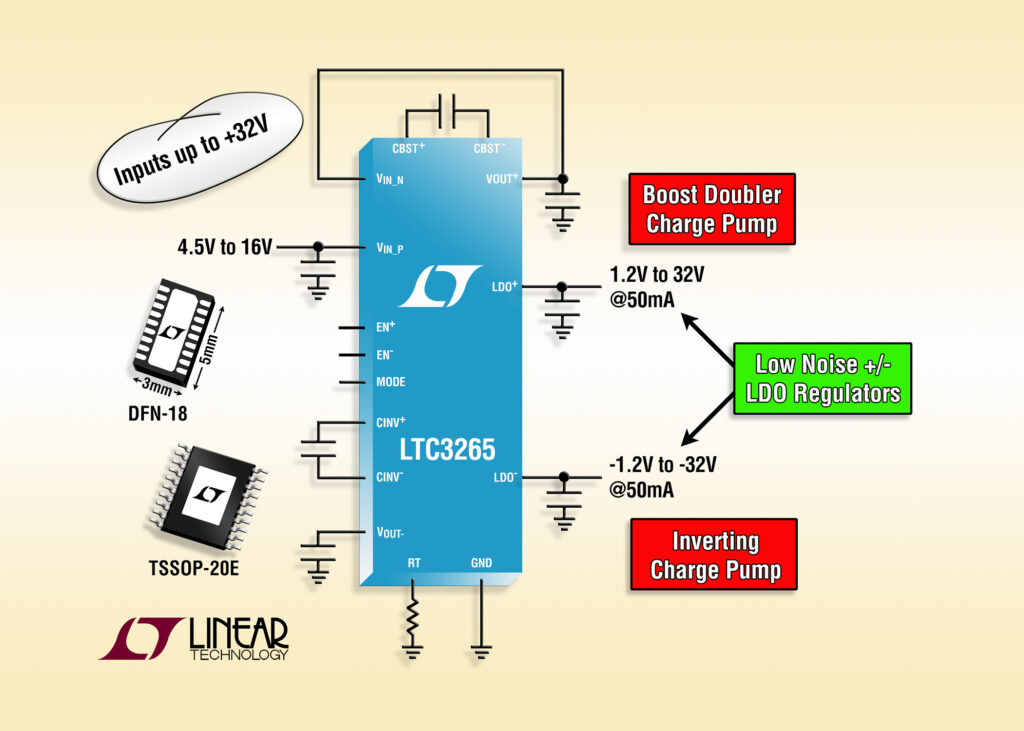 Power supply IC generates low-noise bipolar (+/-) power rails
by Graham Prophet @ edn-europe.com:
LTC3265 is a high voltage, highly integrated, low noise dual output power supply IC which takes a single positive input supply (VIN_P) and generates low noise bipolar rails up to ±2•VIN_P without any inductors. High voltage boost and inverting charge pumps deliver low noise dual outputs with post-regulating ±50 mA LDOs

The device includes a boost doubling charge pump, an inverting charge pump and two low dropout (LDO) regulators. The boost charge pump has a 4.5V to 16V input range and powers the positive LDO post regulator from its output, VOUT+. The inverting charge pump has a wider input range (4.5V to 32V) which may be connected to either the boost input or output. The negative LDO post regulator is powered from the output of the inverting charge pump, VOUT-. The LTC3265 is suited for a variety of applications that require low noise bipolar supplies from a high voltage input, such as industrial/instrumentation low noise bias generators, portable medical equipment and automotive infotainment systems.
Power supply IC generates low-noise bipolar (+/-) power rails – [Link]