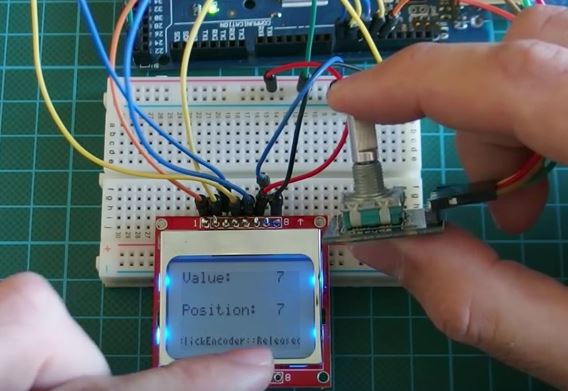 Rotary Encoder with Arduino and Nokia 5110 LCD Tutorial
Today we will take a look at using a rotary encoder with Arduino and displaying rotation data on the Nokia 5110 LCD display.
A rotary encoder is an Electro-mechanical device that converts angular position or the rotation of a shaft into analog or digital values. By turning the shaft to the right or left, we either get an increase or decrease in value. One of the major advantage of rotary encoders is the fact that rotation is limitless. If the maximum position, (which is 20 for the particular rotary encoder used in this tutorial) is reached, the device starts the position counting all over again while the Value attached to the position continues to increase/decrease with every turn of the knob in the same direction. This means we could still keep increasing the value associated with turning the rotary encoder so far we keep rotating in the same direction.
Rotary Encoder with Arduino and Nokia 5110 LCD Tutorial – [Link]