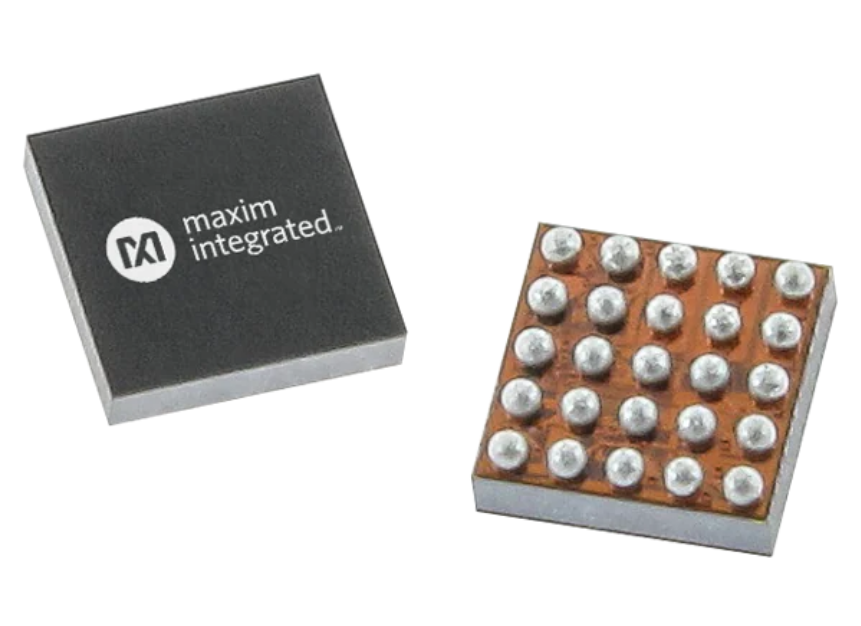 Maxim Integrated MAX77301 Lithium-ion Linear Battery Charger
Maxim MAX77301 Lithium-ion Linear Battery Charger is JEITA-compliant and operates from a USB port, a dedicated charger, or a universal adapter. The IC provides automatic adapter-type detection and enumeration with a USB host or hub. The IC integrates an independent battery charge switch, current sense circuit, MOSFET pass elements, thermal regulation circuitry and eliminates the external reverse-blocking Schottky diode. This feature creates the simplest and smallest USB-compliant charging solution.
The Maxim MAX77301 includes automated detection of charge adapter type, making it possible to distinguish USB 2.0 devices, USB chargers, dedicated charger devices, as well as standard input adapters. When enumeration is enabled, the IC automatically negotiates with a USB host, making it possible to achieve the highest charging current available from a USB 2.0 device or USB charger without processor intervention. The adapter type detection is compliant with USB 2.0 as well as battery charging Specification Revision 1.1.
Block Diagram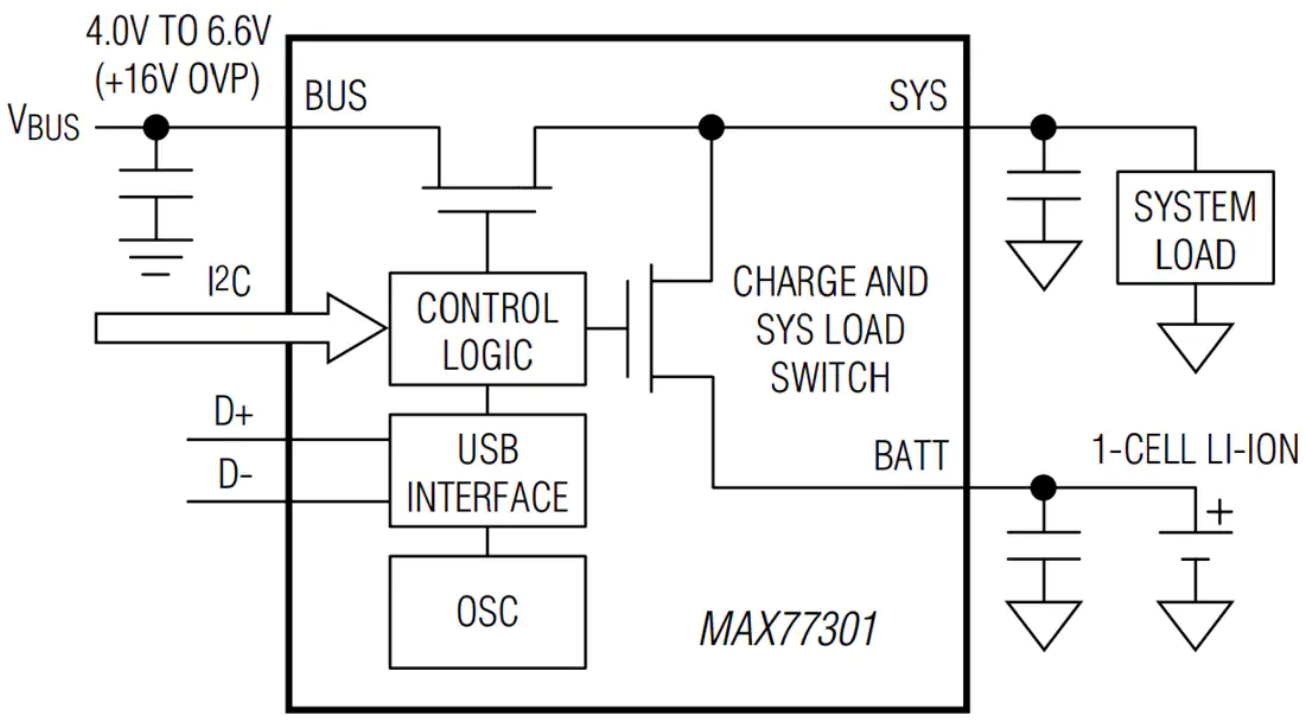 The IC controls the charging sequence for single-cell Li+ batteries from battery detection, pre-qualification, fast charge, top-off, and charge termination. Charging is controlled using constant current, constant voltage, and constant die-temperature (CCCVCTj) regulation for safe operation under all conditions. The IC is also compliant with JEITA battery charging requirements.
Features
Enables charging from a USB port
Automatic detection of adapter type
Input current up to 1500mA and charging current up to 900mA
Enumeration without processor intervention
Supports USB low-speed and full-speed
Compliant with USB 2.0 specification and battery charging specification (Revision 1.1)
Compliant with next-generation low-voltage Li-Ion battery profiles
Input overvoltage protection up to 16V
Smart Power Selector™ allows power path operation with discharged or no battery
Battery detection including packs with open protectors
Thermal regulation prevents overheating
LED indicator for charge done, precharge, and time/temperature error
Serial (400kHz) I2C-compatible interface
6µA (Typ.) shutdown current
2.44mm x 2.44mm, 25-Bump WLP package
The Smart Power Selector feature makes the best use of limited USB or adapter power. The battery charge current is set independent of the input current limit. Power not used by the system charges the battery. The battery assists the input source when needed. System voltage is maintained by allowing the application to operate without a battery, a discharged battery, or a dead battery. Automatic input selection switches the system from battery to external power.
The I2C interface provides full programmability of battery charge characteristics, input current limit, and protection features. This feature provides flexibility for use with a wide range of adapter and battery sizes.
Other features include undervoltage lockout (UVLO), overvoltage protection (OVP), charge status flag, charge fault flag, input power-OK monitor, battery detection, JEITA-compliant charging, charge timer, 3.3V/10mA auxiliary output, and an external power-on switch.
more information: https://www.maximintegrated.com/en/products/power/battery-management/MAX77301.html
Join 97,426 other subscribers

Archives