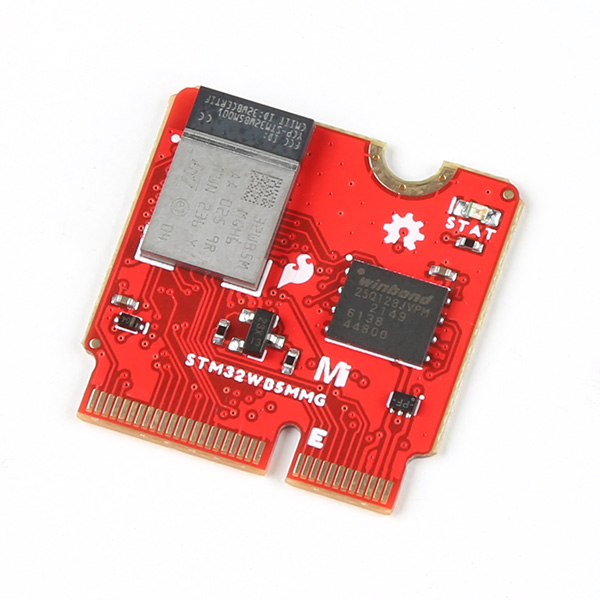 SparkFun comes with another MicroMod product, the STM32 processor
SparkFun Electronics has expanded its MicroMod ST product line by introducing the SparkFun MicroMod STM32WB5MMG Processor. The processor board combines computing capabilities with wireless functionality, all packed into a single M.2-connectable module.
As the name suggests, the MicroMod STM32WB5MMG Processor is built around the STMicroelectronics STM32 processor core, which is a low-power module, an ideal choice for battery-powered applications. It features a combination of two Arm Cortex processors: a Cortex-M4 processor with FPU and ART for primary computing tasks and a Cortex-M0 processor dedicated to running the 2.4 GHz RF stack.
The STM32WB5MMG processor supports various wireless protocols such as 2.4 GHz wireless communication and compatibility with Bluetooth Low Energy 5.3, Zigbee 3.0, OpenThread, and 802.15.4 proprietary protocols. This wide communication protocol makes it a good choice for a wide range of applications that require reliable and efficient wireless connectivity.
The Cortex-M4 CPU operates at a frequency of up to 64 MHz, ensuring efficient processing of data. Including a floating-point unit (FPU) single precision improves the module's capabilities. The FPU supports all ARM single-precision data-processing instructions and data types. Additionally, the processor implements a memory protection unit (MPU), which enhances the security of applications by isolating memory regions.
In 2020, following the introduction of the SparkFun Qwiic connect system, SparkFun unveiled a new modular interface that utilizes the M.2 standard– MicroMod. This interface allows for connecting a microcontroller processor board to different carrier boards. By leveraging the convenience of solderless interfacing, developers can select their preferred processor board and easily connect it to standalone carrier boards.
SparkFun has previously launched a MicroMod STM32F405 processor board with its Arm Cortex-M4 32-bit RISC core. For situations where there is limited workspace but a need for enhanced power, this compact processor board offers a cost-effective and user-friendly development platform.
The SparkFun MicroMod STM32WB5MMG Processor is priced at $19.95 USD. Interested people can check out the official product page for more details.
Join 97,426 other subscribers

Archives