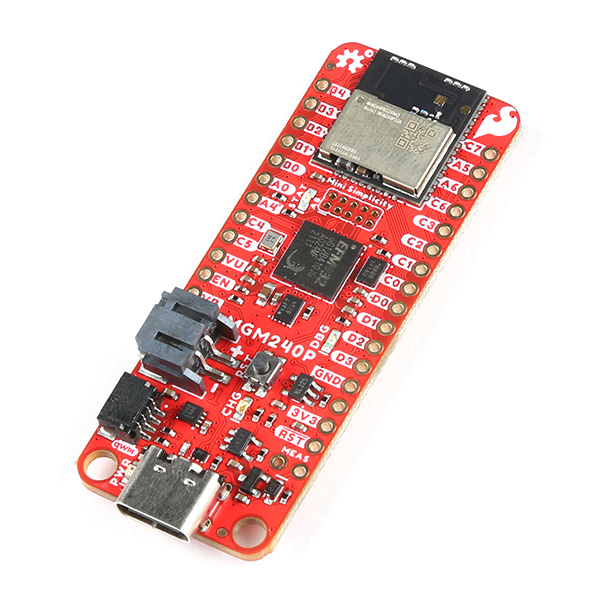 SparkFun launched Thing Plus Matter with integrated MGM240P wireless module
SparkFun has launched SparkFun Thing Plus Matter, a development and prototyping board based on Matter secure connectivity and also supports Zigbee and OpenThread. The board integrates the MGM240P wireless module from Silicon Labs, letting it operate consistently between smart home devices and IoT platforms even without an internet connection.
Interestingly, the SparkFun Thing Plus Matter combines wireless connectivity with the Qwiic ecosystem that allows the developer to interface with external sensors and actuators to gather surrounding information easily. The Silicon Labs' Matter IoT protocol module is specifically designed for home automation applications.
Silicon Labs MGM240P is a high-performance wireless module designed for IoT devices powered by batteries for 2.4 GHz mesh networks. The Series 2 EFR32MG24 system-on-chip is inside the module, enabling IEEE802.15.4 and Bluetooth Low Energy connectivity. It also delivers high RF performance and energy efficiency.
Specifications of SparkFun Thing Plus Matter board
Wireless module: Silicon Labs MGM240P

Processor: A 32-bit ARM-M33 core processor clocked at 39MHz
Memory: 256kB RAM
Storage: 1536kB flash memory
Security: Secure vault support

Form Factor: Feather compatible

Dimensions: 2.30″ x 0.9″
Two Mounting Holes
21x GPIO PTH Breakouts

Connectors: USB Type-C connector
Battery support: 2-Pin JST LiPo battery connector for a LiPo battery and MC73831 Single-Cell LiPo charger
Interfaces: 4-Pin JST Qwiic connector
LEDs: Red, Yellow, and Blue
Reset button: Physical push-button
One of the key features of the Thing Plus Matter is its Qwiic connector, which allows for quick and easy integration with a wide range of sensors and other modules. This makes it easy to add new functionality to your project without complex wiring or additional programming.
The board also includes a LiPo battery connector, allowing you to power your project with a rechargeable battery. The MCP73831 single-cell LiPo charger and MAX17048 fuel gauge ensure that your battery is charged and monitored properly, making it easy to keep your project running smoothly.
In addition to these features, the Thing Plus Matter includes multiple GPIO pins that allow you to easily control a wide range of peripherals and components, making it a great option for projects requiring high flexibility and control. The board also includes a µSD card slot, allowing easy storage and retrieval of data from external memory. This is particularly useful for projects requiring large amounts of data storage or logging.
SparkFun Thing Plus Matter is available for purchase on the official product page for $24.95, with quantity discounts available.
Join 97,426 other subscribers

Archives