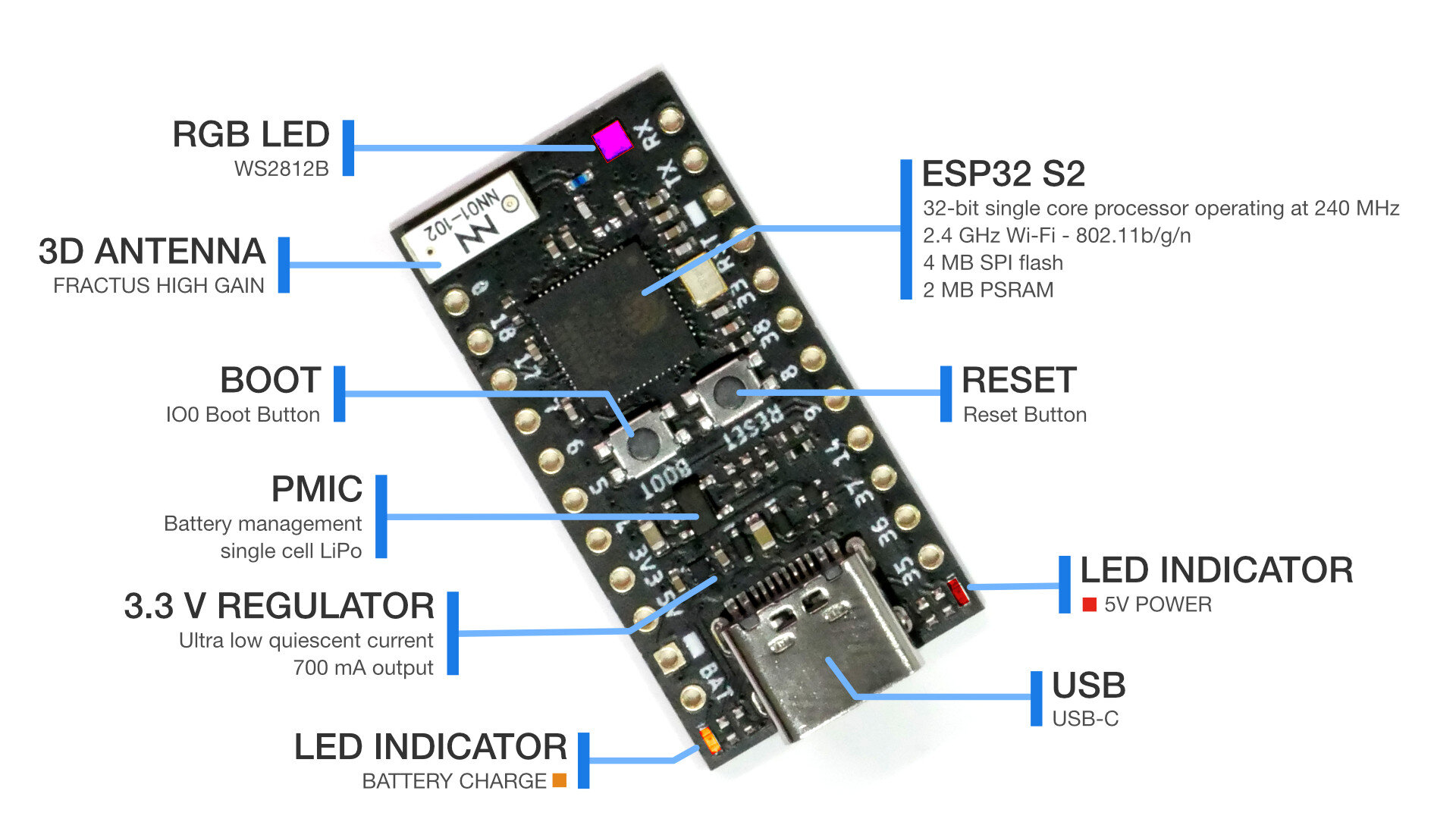 Unexpected Maker's TinyS2 Development Board with ESP32-S2 SoC
Yet another development featuring Espressif Systems' powerful ESP32-S2 SoC. Unexpected Maker has launched the TinyS2 ESP32-S2 development board. We have seen many boards with this SoC. This includes Olimax's USB development board and Adafruit's Wi-fi feather board harnessing the functionalities of ESP32-S2 SoC. Also, the company's own generic ESP Wi-Fi MCU module came with a rich set of peripherals.
TinyS2 development board comes with popular ESP32-S2 SoC, so it is capable of a wide range of use cases. The compact form factor with a powerful core makes it a special development board. As it comes with Espressif Systems' SoC thus it has good compatibility with the software support. Discussing further, the board has ESP-IDF and Arduino support for C++ programmers. It also has CircuitPython support for coding the use case with the TinyS2 development board.
We also saw the TinyPICO ESP32 development board for giving access to the power of the ESP32's dual-core 240 MHz and internet connectivity. So similarly the TinyS2 also has a LiPo battery charging feature locally on the board. The 4MBs of flash and an on-board RGB LED that can be shut down to reduce deep sleep current and a generous 700mA output 3.3V regulator are also some similar functionalities with TinyPICO.
TinyS2 development board comes with a wide range of interfacing options. This includes SPI, I2C, UART, ADC, DAC, 5V, 3.3V, and BAT signals. Additionally, it has booting and reset buttons, a battery charging status LED, and power LED. The compact dimensions of the board are 41 x 17.8 mm.
Technical Specifications of TinyS2 Development Board
ESP32-S2 SoC working at a frequency up to 240 MHz
Board has a USB Type-C port for power supply and programming purposes
It comes with an interfacing option of 4MP SPI flash and also features 2MP PSRAM
Wireless connectivity with 2.4 GHz WiFi 4 plus 3D antenna technology
The power rating of 5V DC supply through USB-C port
Lipo battery management for optimizing power consumption
700 mA 3.3 V LDO regulator for linear regulation of the output voltage
VBAT and 5V Sense pins along with the 17x GPIOs
Open Cloudware has brought to our attention, TinyS2 development board comes with a compact 3D antenna ensuring a high gain for the board. The board can be compared with the Feather S2 board with a similar form factor. So, the TinyS2 development board has an output of 700 mA with an input supply of 3.3V linearly regulated by a single LDO regulator. Whereas Feather S2 has two such regulators for the same output.
Talking about the software support, the TinyS2 comes with a UF2 bootloader and the latest version of CircuitPython compatible with the ESP32-S2. Users can plug the development board into the laptop for getting started. TinyS2 appears in the filesystem similar to any USB flash drive or external storage. Programming the board is easier as the user has to copy the code over, or edit the code directly on the drive.
The TinyS2 development board is available at $17 on the company website. For more information about the board, visit the official product page. You can also see a FAQ section on the product page for general queries of the users.
Join 97,426 other subscribers

Archives