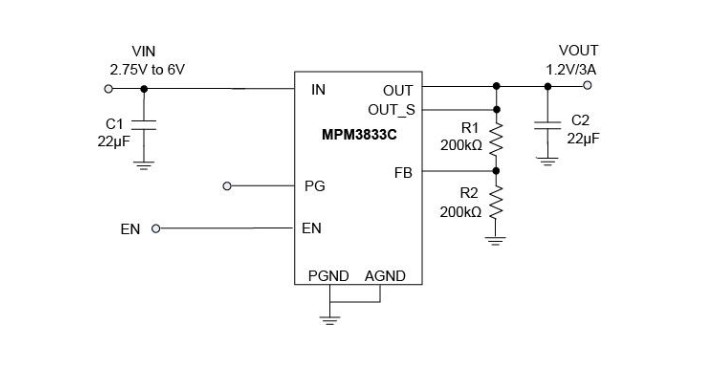 3A Ultra-Small and Ultra-Low Noise Step Down Power Module
The MPM3833C from Monolithic Power Systems, Inc is a step-down module converter with built-in power MOSFETs and inductor. The MPM3833C achieves 3A of continuous output current from a 2.75V to 6V input voltage with excellent load and line regulation.
The MPM3833C works in forced continuous conduction mode (CCM) and has a voltage ripple under 10mV with one output capacitor, making it suitable for optical modules, FGPA, ASIC, and other applications requiring low ripple noise.
The output voltage can be regulated as low as 0.6V. Only FB resistors, input capacitors, and output capacitors are needed to complete the design. Also available is the EVM3833C-RH-00A evaluation board.
The constant-on-time control (COT) scheme provides fast transient response, high efficiency, and easy loop stabilization.
Full protection features include cycle­-by-cycle current limiting and thermal shutdown.
The MPM3833C requires a minimal number of readily available, standard, external components and is available in an ultra-small QFN-18 (2.5mmx3.5mmx1.6mm) package.
Summary of features:
2.75V to 6V Operating Input Range
Adjustable Output from 0.6V
Low Radiated Emissions (EMI) Complies with EN55022 Class B Standard
Up to 3A Continuous Output Current
100% Duty Cycle in Dropout
Forced Continuous Conduction Mode (CCM)
Enable (EN) and Power Good (PG) for Power Sequencing
Cycle-by-Cycle Over-Current Protection (OCP)
Short-Circuit Protection (SCP) with Hiccup Mode
Only Four External Components Needed
Available in a QFN-18 (2.5mmx3.5mmx 1.6mm) Package
On The Web: Monolithic Power Systems Inc.