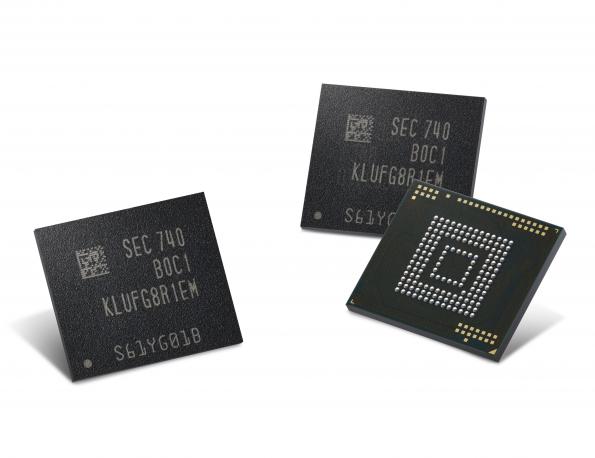 512Gbyte embedded universal flash memory in production
Samsung Electronics has begun mass production of what the company claims to be the industry's first 512-gigabyte (GB) embedded Universal Flash Storage (eUFS) solution for use in next-generation mobile devices. by Julien Happich  @ eenewseurope.com:
The 512GB eUFS packs eight of Samsung's latest 64-layer 512-gigabit (Gb) V-NAND chips together with a controller chip, doubling the density of Samsung's previous 48-layer V-NAND-based 256GB eUFS in the same amount of space as the 256GB package. The new high-capacity eUFS enables a flagship smartphone to store approximately 130 4K Ultra HD (3840×2160) video clips of a 10-minute duration. To maximize the performance and energy efficiency of the new 512GB eUFS, Samsung has introduced a new set of proprietary technologies. The 512GB eUFS' controller chip speeds up the mapping process for converting logical block addresses to those of physical blocks. With its sequential read and writes reaching up to 860 megabytes per second (MB/s) and 255MB/s respectively, the 512GB embedded memory enables transferring a 5GB-equivalent full HD video clip to an SSD in about six seconds, over eight times faster than a typical microSD card.
512Gbyte embedded universal flash memory in production – [Link]
Subscribe to Blog via Email
Join 97,930 other subscribers
Archives