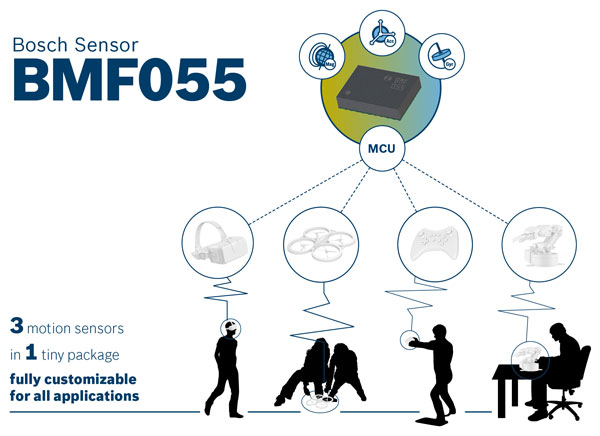 9-axis motion sensor and MCU reside in tiny package
by Susan Nordyk:
Housed in a 5.2×3.8×1.1-mm package, Bosch Sensortec's BMF055 9-aix sensor combines an accelerometer, gyroscope, and magnetometer with a 32-bit MCU to enable easy programming and customization. It can be used by designers creating advanced application-specific sensor fusion algorithms for robotics, gaming, remote controls, navigation systems, drones, and human interface devices for IoT projects.

The BMF055 system-in-package integrates a triaxial 14-bit accelerometer, a triaxial 16-bit gyroscope with a range of ±2000 degrees per second, and a triaxial geomagnetic sensor. Based on a 32-bit ARM Cortex M0+ core running at up to 48 MHz, the Atmel SAM D20 microcontroller employed by the BMF055 provides in-system programmable flash memory and a rich set of peripherals and interfaces.
9-axis motion sensor and MCU reside in tiny package – [Link]
Join 97,426 other subscribers

Archives