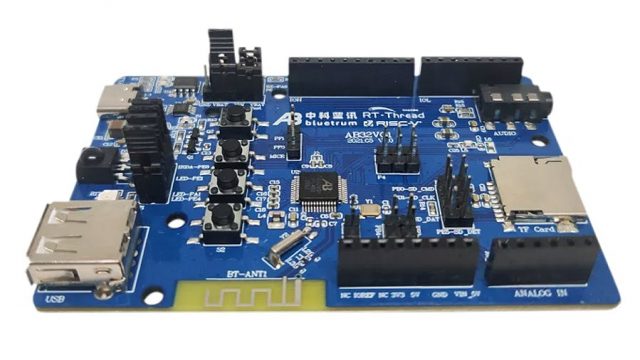 Arduino UNO-like AB32VG1 Development Board based on RISC-V MCU
Recently, there have been several developments in the RISC-V community with its increasing use case in various domains. We have seen this open-source technology grow at an impressive rate, catching the eye of the makers' community to implement extraordinary projects. To help them, a RISC-V member Chinese chip design manufacturer known for its high-performance Bluetooth speakers and headsets, Bluetrum has announced AB32VG1 Development Board based on its 32-bit RISC-V AB5301A MCU clocked up to 120 MHz for audio applications.
One of the major advantages of increasing RISC-V adoption is the modular architecture that allows the design picking choose the extension required along with the base instruction set. Due to this, the designer only adds the required extensions that can be for vector or floating-point among the several. The manufacturer has not provided much information on the extensions, but the CPU is a 32-bit RISC-V core.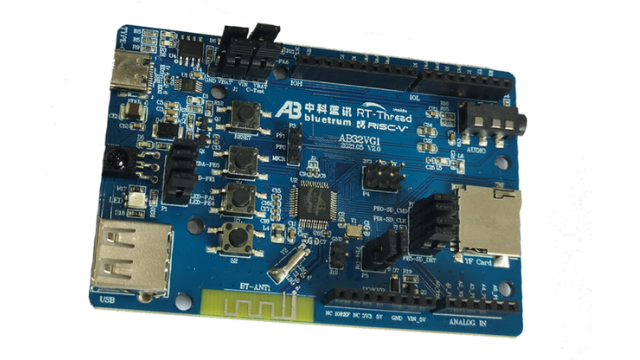 Features of AB32VG1 Development Board
CPU: Bluetrum AB5301A RISC-V MCU clocked up to 120 MHz
Flash memory: 1MB flash with TF card slot
Wireless Connectivity: Bluetooth 5.0, BLE and FM radio
Expansion Headers: 1x I2C, 6x ADC, 6x PWM
Power Supply: 5V via USB Type-C or Vin pin on the expansion header
Dimension: 9cm×6cm
According to the datasheet available in English, the CPU is integrated with 32-bit RISC-V MCU that can be over-clocked up to 192 MHz with 192KB RAM and 1MB flash storage. As we have all used Arduino UNO, the AB32VG1 development board comes in the same form factor as Arduino UNO but a RISC-V MCU at its heart. This gives tough competition to the most popular ARM-based development board. The board comes with similar GPIO headers that give access to an I2C, six ADC, and six PWM connections.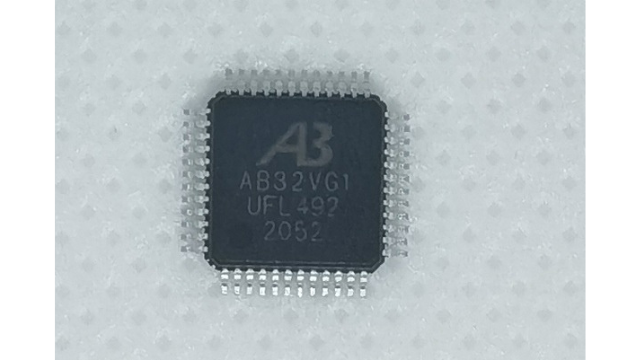 When it comes to wireless connectivity, the development board supports Bluetooth 5.0 and BLE specifications and is equipped with an FM radio. The board also features a TF card for extra storage required as per the requirements of the user. To power the board, you can use 5V via USB Type-C or Vin pin on the expansion header. This is open-source hardware with all the schematics and BOM available on Gitee where the users can take a look. However, it is important to note that the microcontroller is an in-house tape out and there is no detailed information regarding it.
For more details, you can visit the Gitee page and you can buy the product on Taobao for 79.90 Yuan.
Join 97,426 other subscribers

Archives