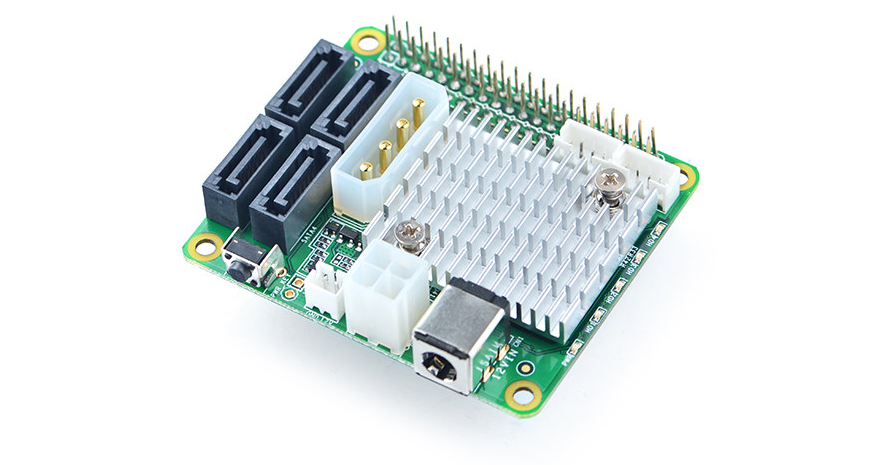 DIY NAS System with newly launched Nano Pi SATA HAT
Have you ever wondered owning a fully powered NAS (Network-Attached Storage) system, but the cost buying one has been holding you back, well, now this is past, and you can easily build a simple NAS platform for just a fraction of the cost.
The Nano Pi M4 launched by FriendlyElec back in 2018, was one the smallest, and most affordable Rockchip RK3399 based SBC, sharing similar layout as the Raspberry Pi 3 and it is generally better than the Raspberry Pi 3 Model B+ in terms of performance. It shares some identical features, as it supports 2 – 4 GB RAM, HDMI, 4 USB 3.0 ports, Gigabit Ethernet, 40pin GPIO port, and many others. One distinct feature of the Nano Pi M4 is the 2.54mm pitch header, which was used to expose the 2-lane PCIe interface of the Rockchip Processor.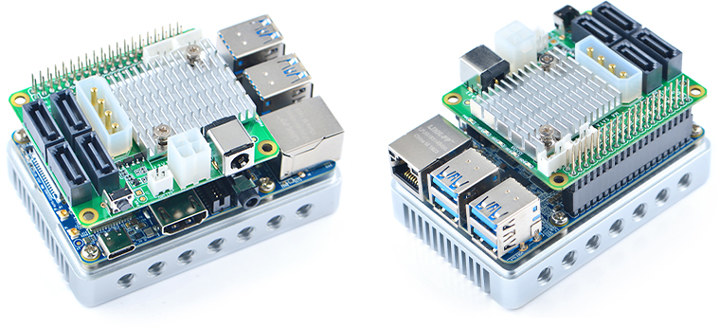 FriendlyElec has now launched a 4x SATA HAT for NanoPi M4 board that leverages on the 2.54mm pitch header on the NanoPi M4 board with PCIe 2x signals. The SATA HAT has four SATA ports which support three communication rates: 6 Gbps, 3 Gbps, and 1.5 Gbps. Its 4-Pin power connector includes a 12V and 5V outputs and they are also able to carry large currents.
The SATA HAT is the perfect add-on if you are considering designing your own NAS powered system, with it's included 4x SATA ports you can connect an array of high-speed storage devices to it. With inbuilt LEDs, you can easily see the status of each SATA port.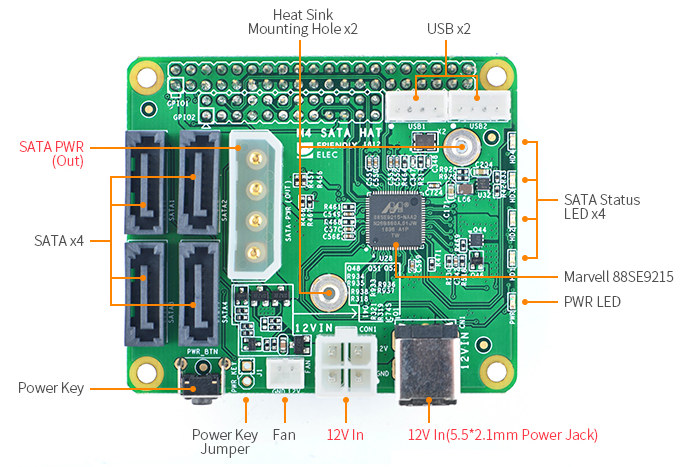 Specifications
PCIe to SATA Chipset – Marvell 88SE9215 four-port 6Gbps SATA I/O controller
USB – 2x 4-pin USB 2.0 host connectors
Expansion – NanoPi M4 40-pin header exposed
Misc

Power key, unpopulated power key jumper
Power LED, 4x SATA LEDs
Heat dissipation – 2x PCB nuts for mounting a heatsink on top of Marvell chipset; 2-pin header for a fan, PWM modulation for 12V output

Power Supply

12V DC input via power barrel jack or 4-pin header; 2A needed for one 3.5″ hard drive or four 2.5″ hard drives; 5A needed for four 3.5″ hard drives
4-pin power connector with 12V and 5V output

Dimensions – 65 x 56 mm
Weight – 33.48 grams
The same OS support provided for the NanoPi M4 board can easily be used with the M4 SATA HAT. OS support for this board includes Android 7.1.2 and three Ubuntu-based Linux distributions: Lubuntu 16.04, FriendlyCore 18.04 (Ubuntu Core), and FriendlyDesktop 18.04.
FirendlyElec ran iozone to show the performance with one 750GB Crucial MX300 SSD.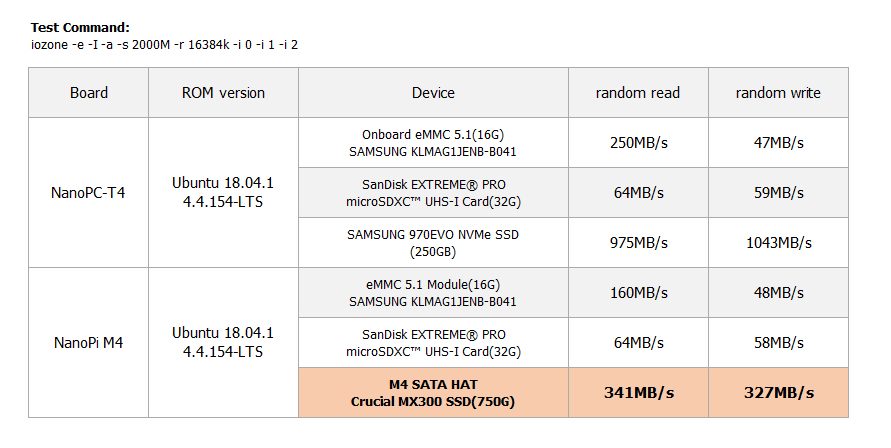 The HAT is available for purchase online for $25, but you will need to use it with the NanoPi M4 which cost an upward $65 and it's available here.
Join 97,426 other subscribers

Archives