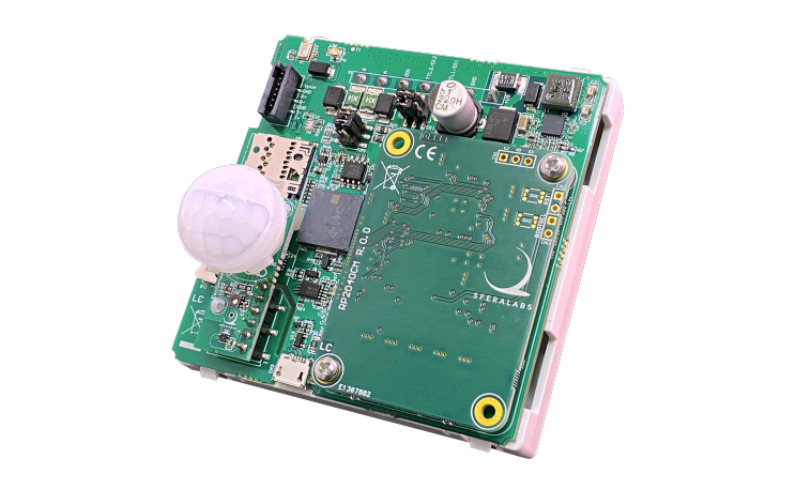 Exo Sense RP is Multi-Function Environmental Sensor
Sferalabs launched its new indoor environmental sensor Exo Sense RP, featuring a variety of indoor circumstances that can be observed with this robust sensor. Equipped with a Raspberry Pi RP2040 microcontroller, a range of environmental sensors and input/output lines provide power and make it easy to use. In addition to temperature, humidity, air quality, light, and motion sensors, Exo Sense RP includes a microphone for ambient noise measurements and audio recording.
Raspberry Pi RP2040 contains the most energy-efficient dual-core Arm Cortex M0+ processor running at 133MHz, 264KB of SRAM containing the code or data, and backed up with an onboard large 16 MB Flash memory. Since this environmental processor is powered by Rasberry Pi RP2040 as its processing unit, it can be programmed in C/C++ as well as MicroPython, and it is also supported by Arduino IDE and Visual Studio Code.
Sensors In Exo Sense RP
Sensirion SHT40 temperature and humidity sensor with an operating range of 0% to 100% relative humidity (RH), -40°C to +125°C.
Sensirion SGP40 air quality monitoring (Volatile Organic Compounds) sensor
Texas Instruments OPT3001 digital ambient light sensor (ALS) measuring the intensity of visible light with high-precision human-eye response
Panasonic EKMC PIR motion detection sensor
Earthquake module sensor (Optional)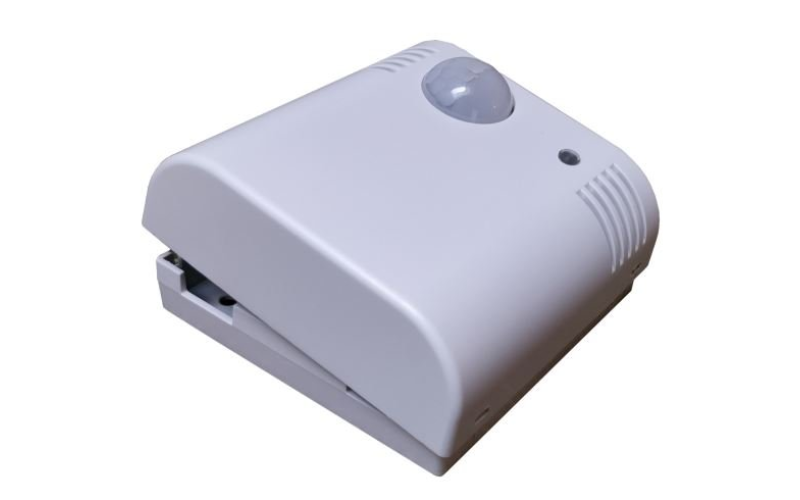 Technical Specifications
30 multifunction GPIO (General-Purpose Digital Input/Output)
Six dedicated I/O for SPI Flash (supporting XIP) offering an ultra-cost-effective and high-density non-volatile storage solution
Dedicated hardware for peripherals that are commonly used
Programmable IO for enhanced peripheral support
Four-channel ADC with internal temperature sensor, 0.5 MSa/s, 12-bit conversion
USB 1.1 Host/Device to flash the microcontroller easily.
TDK ICS-43432 digital I2S microphone for audio recording and environmental noise detection
Connectivity Of Exo Sense RP
Exo Sense RP needs a wired serial connection; hence, the RS-485 standard serial bus enables the industry-standard Modbus protocol or another half-duplex serial protocol to communicate with the sensor. In addition to this, System integration and communication with other devices, such as Wiegand keypads and card readers, can be accomplished via RS-485 and other digital interfaces. This standard RS-485 interface is connected in series to RP2040 UART with electrostatic discharge protection (ESD), enabling the sensor to work accurately in an electrostatic environment by limiting the reception of electrostatic energy.
The Exo Sense RP comes having a dimension of 80mm x 80mm, can be mounted on a wall, and aims to serve indoor circumstances with a required input of 10 to 28V (+VS) DC power supply. The terminal block provides digital input/output lines to monitor external signals, control actuators, and an open-collector output line. The terminal block also includes a real-time clock (RTC) module, and a factory-installed earthquake sensor module is available as an option if the area in which the sensor is mounted is earthquake-prone. Status signals and alerts can be implemented through an integrated LED indicator and piezoelectric buzzer.
Applications Of Exo Sense RP
Exo Sense RP is beneficial for indoor usages such as in-home/building automation, environmental monitoring, people counting, room management, alarm reporting, and various domestic and commercial applications. This outstanding indoor environmental sensor is CE and FCC compliant; CE and FCC are the seals that serve to validate and confirm that this sensor is safe for public use.
With protection against overvoltages and reverse polarity, the Exo Sense RP targets commercial and smart-home applications. Additionally, it consists of a 1.1A resettable fuse which provides protection against overcurrents. For more information, visit the product page of Exo Sense RP.
Subscribe to Blog via Email
Join 97,447 other subscribers
Archives