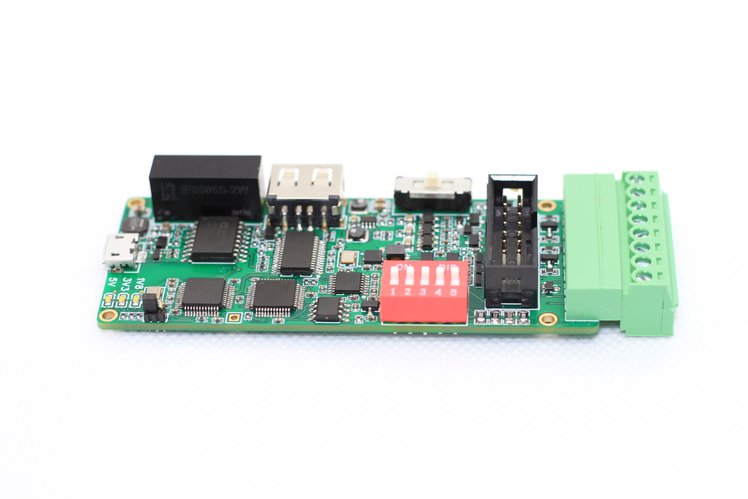 Meet Ollie – The Swiss Army Knife of Connectors
Two challenges field engineers face is the need to go around with multiple connectors and cables, and the ESD/over-voltage challenges faced when interfacing with high voltage devices. With the desire to help solve these challenges, Melbourne-based hardware designer Ali Slim, got to work and recently announced a new product called Ollie.
An isolated, multifunction interface module with USB-to-isolated-UARTx2/CAN/USB/RS485/RS232 converter, Ollie is a versatile device that combines the most commonly used interface modules into one safe, reliable, compact, and affordable package.
Sharing the ideas behind the project in the product description, the team notes that the main objective behind Ollie is to replace the mess of wires from different connectors, that used to be a regular feature of the toolkit of all field engineers, with a simple singular device, which not only provides access to multiple connectors but also prioritizes safety.  Through its isolation features, Ollie ensures that computers and other equipment are not damaged if things go wrong when interfacing with high voltage devices.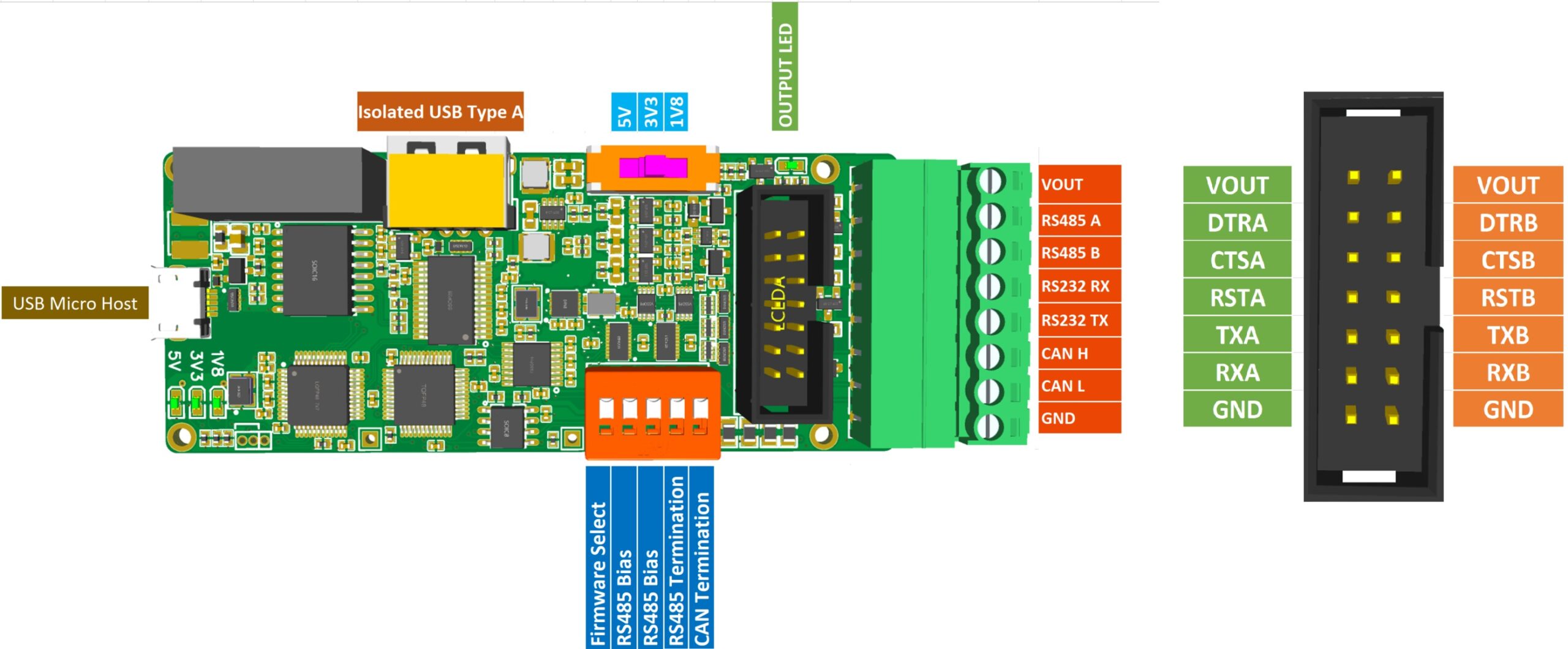 Some features and specification of ollie as described in the product description include:
Isolated UART:

Two isolated UART ports (UARTA and UARTB)
Data Rate up to 12 Mbps
1.8/3.3/5 V voltage levels (set by slide switch)

Isolated CAN:

Based on CANable/CANtact open hardware
By default flashed with *dual firmware CANtact and Candlelight*, the firmware is set by the DIP switch
Termination Resistor switch
ESD protection

Isolated Power Supply:

1.8/3.3/5 V output voltage(set by slide switch). The output voltage can set only before the USB is plugged in, to prevent accidental level change (hackable in firmware)
Current-limited with auto-restart (~100m V drop at max current)

5 V @ 200 mA
3.3 V @ 300 mA
1.8 V @ 300 mA

Reverse voltage protection up to 10 V
Reverse current protection
Reverse polarity protection

Isolated downstream USB:

USB Type-A connector
Supports 1.5 Mbps (Low Speed) or 12 Mbps (Full Speed) USB devices
Current limited with auto-restart
Reverse current protection
ESD protection

Isolated RS485:

Bias and Termination resistors switches
Error-free transmission up to 500 kbps
ESD protection

Isolated RS232:

The typical data rate of 235 kbps
ESD protection

optional: CAN/RS232/RS485 DB9 pluggable connector
On applications, Ollie was designed as a perfect multi-tool for hackers and field engineers; a "Swiss Army knife" of interface modules. These open it up to a lot of use cases some of which include;
High-speed 1.8/3.3/5 V isolated UART
Power up your project from the USB port safely
Auto Flash ESP32, Arduino, or similar
Isolate any USB (Full Speed/Low Speed) device
Isolated CAN to interface with vehicles
Communicate with any system that uses RS485/RS232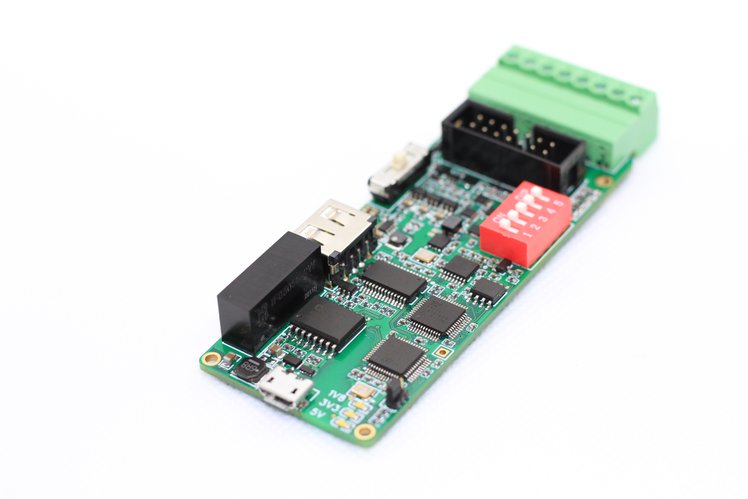 Ollie is not the first of it's kind, there are several tools like the DFRobotMulti USB/RS232/RS485/TTL, and Waveshare's USB TO RS232/485/TTL which possesses similar features and are used for similar purposes, but all fall short in one way or the other when compared to Ollie as illustrated in the comparison table below.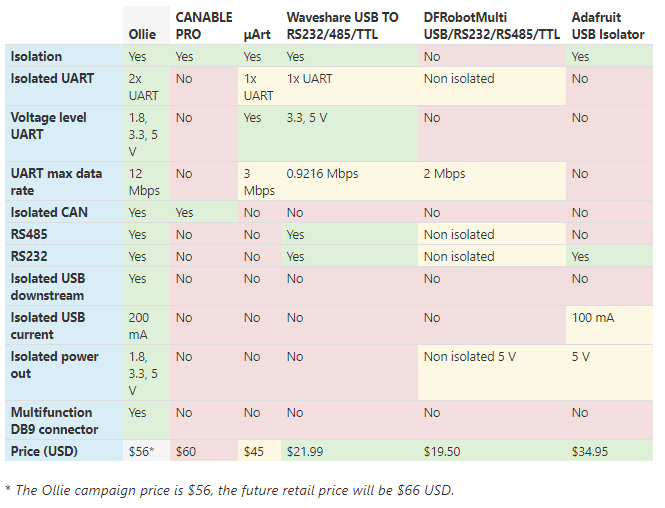 While Ollie is entirely open source with all documentations (firmware and hardware) available on Github, the team recently launched a crowd supply campaign through which prospective users can buy Ollie with a custom enclosure for just $56 rather than build. The campaign, which had a $4,200 goal, has so far raised $7,968, surpassing the goal by more than 80% with up to 28 days to go.
More information on the Ollie and the crowdfunding campaign can be found on the project page on crowdsupply here.
Join 97,426 other subscribers

Archives