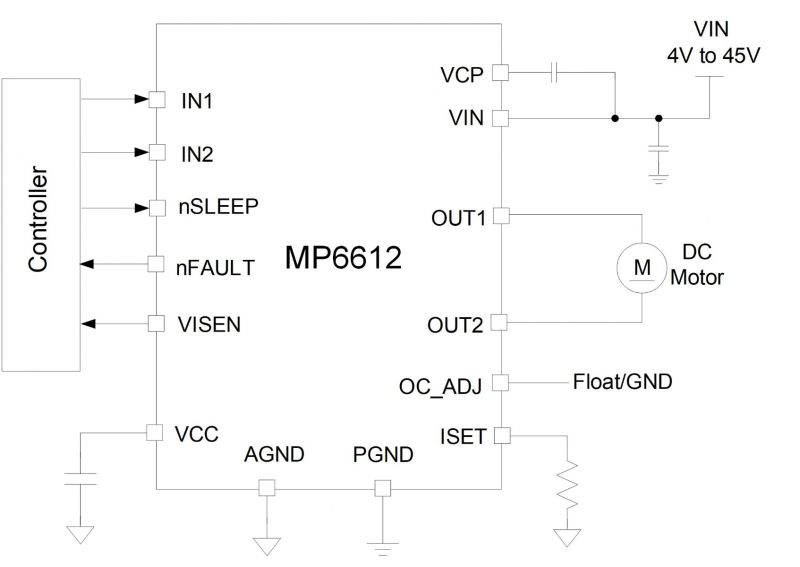 MP6612 – 45V, 5A, H-Bridge DC Motor Driver with Current Sense and IN1/IN2 Logic Inputs
The MP6612 from Monolithic Power Systems is a Half-Bridge DC Motor Driver that is used for driving reversible motors. It requires an input voltage of 4-45 V for operation and has an output current of up to 5 A. The motor driver consists of four N-channel power MOSFETs and an internal charge pump that generates the gate driver voltages. . It offers low quiescent current (IQ) in brake mode while two LS-FETs are on configurable current limit.
Features & Benefits
Wide 4V to 45V Operating Input Voltage (VIN) Range
Internal Full H-Bridge Driver Supports 100% Duty Cycle with Internal Charge Pump
Current Sense with 10% Accuracy
5A Continuous Output Current (IOUT)
Low On Resistance:

70mΩ High-Side MOSFET (HS-FET)
45mΩ Low-Side MOSFET (LS-FET)

Cycle-by-Cycle Current Regulation/Limiting
IN1 and IN2 Logic Inputs
Low Quiescent Current (IQ) in Brake Mode while Two LS-FETs are On
Configurable Current Limit
Over-Current Protection (OCP)
Over-Voltage Protection (OVP)
Over-Temperature Protection (OTP)
Fault Indication for OCP, OVP, and OTP
Available in a TSSOP-20 EP Package with an Exposed Thermal Pad
The MP6612 supports a 100% duty cycle with an internal charge pump and has a current sensing feature with 10% accuracy. It is integrated with over-current protection (OCP), over-voltage protection (OVP), under-voltage lockout (UVLO) protection, and over-temperature protection circuitries. The motor driver is available in a surface-mount package and is ideal for driving DC motor, stepper motor winding, and other loads.
more information: https://www.monolithicpower.com/en/mp6612.html
Join 97,426 other subscribers

Archives