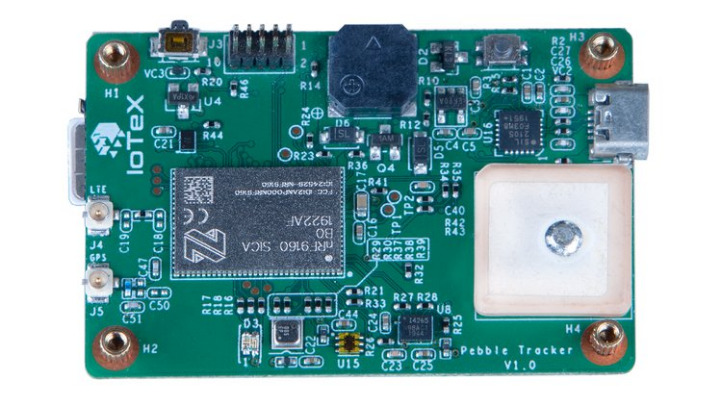 IoTeX has launched a campaign on crowdsupply for Pebble Tracker, which is a secure, battery-operated, cellular-IoT prototyping platform designed for blockchain-based applications. Pebble Tracker is based on Nordic Semiconductor's latest low-power nRF9160 System-in-Package (SiP), and it is powered by open-source firmware. Pebble Tracker enables GPS support, a host of rich sensors, NB-IoT/LTE-M connectivity, and advanced security features which makes it suitable for sophisticated logistical applications where trust is necessary.  The cellular IoT prototyping platform as well as the IoTeX blockchain enables developers to design and build innovative, decentralized IoT solutions that go well beyond conventional asset tracking.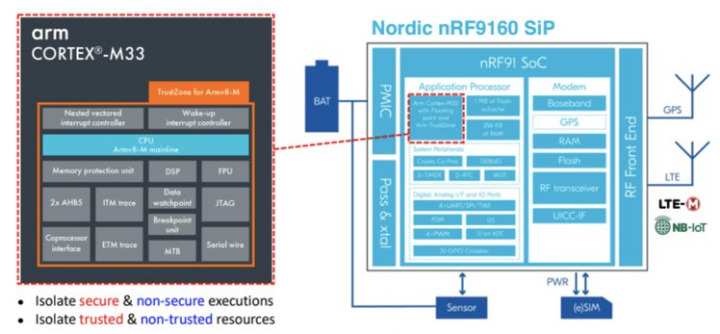 Pebble Tracker utilizes open-source firmware and functions properly with developer-friendly tools, with the addition of ThingsBoard, which is an open-source IoT platform for device management, data processing, and data visualization. Pebble Tracker consists of an expansive array of sensors — internal/external GPS, climate (temperature, humidity, air pressure, air quality), motion (acceleration, angular velocity), and light intensity. They enable trustworthy insights into an asset's environment and movement. Pebble Tracker is verifiable and tamper-proof right from the source. It is transmittable in real-time to the IoTex blockchain of MQTT endpoint of your choice. These are possible because data is cryptographically signed. Pebble Tracker also enables you to convert real-world phenomena into verifiable digital data. By this, you can focus on building innovative asset tracking, remote monitoring, and automation solutions.
Pebble Tracker Nordic Semiconductor's nRF9160 enables advanced processing and security accessible for low-power, cellular-IoT use cases. The nRF9160 SiP uses an ARM Cortex-M33 dedicated application processor, a multimode LTE-M/NB-IoT modem, and power management abilities to provide high performance, energy efficiency, and unparalleled security.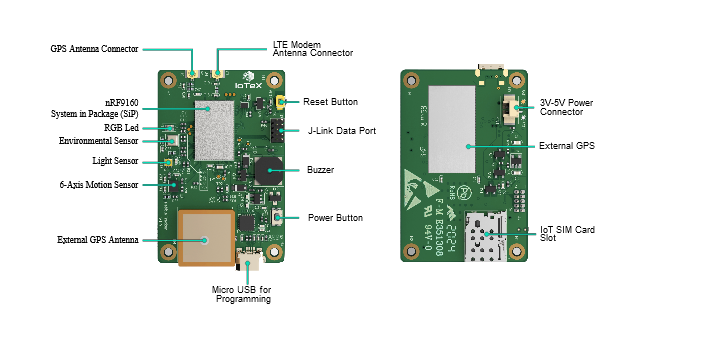 The nRF9160's powerful 64 MHz Arm Cortex-M33 processor enables 1 MB of on-chip flash and 256 KB of RAM to enable advanced cellular-IoT applications possible with a single-device solution. Available also is an integrated cellular-IoT modem for LTE-M & NB-IoT which enables Pebble Tracker to operate globally and to connect with mobile network operators via SIM card, therefore eliminating the need for regional variants. The nRF9160 SiP enables power-saving features like eDRX, PSM, IPv4, and IPv6 communication, including TCP transport and TLS security.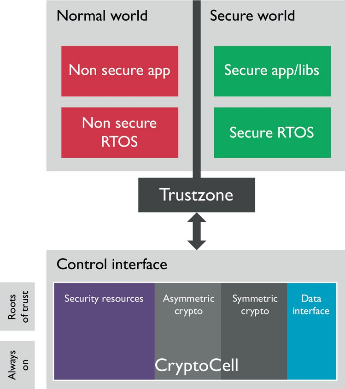 Pebble Tracker offers top-notch security with trusted execution abilities via Arm TrustZone, which helps to secure and identify the most critical processes and peripherals for your applications. Its Arm CryptoCell-310 helps improves the security of Pebble Tracker by enabling cryptographic and security resources to protect your applications from attacks. With the combined blockchain + IoT, Pebble Tracker guarantees both the authenticity of data and the verifiability of data processing without needing centralized intermediaries which can lead to errors.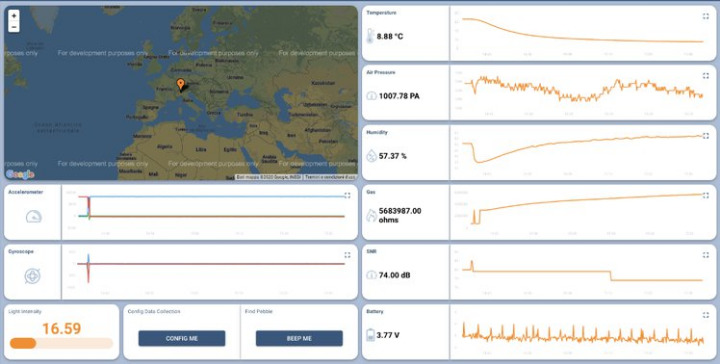 Pebble Tracker enables two backend configurations: hosted and custom. The hosted backend configuration uses open-source software like hmq (MQTT broker), minIO (K8S storage), and ThingsBoard (data visualization) to enable ideation and development in a convenient plug-and-play environment. For custom configuration, you can configure Pebble to send data to any custom backend like AWS IoT Core (device management), AWS S3 (object storage), and ThingsBoard (data visualization). The configuration supports SSL/TLS client certificates, enabling maximum security and scalability.
Features & Specifications
MCU

Core:​ Arm Cortex-M33 @ 64 MHz
Operating supply voltage: 3 V to 5.5 V
Flash size: 1 MB
RAM size: 256 KB
Arm Trust zone
Arm Cryptocell 310

Modem

LTE-M / NB-IoT (support in bands from 700 MHz to 2.2 GHz)
GPS receiver (time-multiplexed with LTE modem)
Power saving modes
Secure socket (TLS/DTLS) API

Buzzer

Frequency: 2700 Hz
Sound pressure level (dB/min): 85 at 10 cm

Physical

Weight: ~10 g
Dimensions: 3.5 cm x 5.3 cm
On-board Sensors
TD1030 GPS

Position accuracy: 3m
Speed accuracy: 0.1 m/s

Bosch BME680 Environmental Sensor

Humidity
Pressure
Temperature
Air Quality (VOCs)

ICM-42605 Motion Sensor

3-axis gyroscope
3-axis accelerometers

AMS TSL2572 Ambient Light Sensor

45,000,000:1 dynamic range
Up to 60,000 lux in sunlight
Very high sensitivity
Package UV rejection filter
Funding ends on Mar 25, 2021 at 04:59 PM PDT (11:59 PM UTC). For more information, visit the campaign page on Crowdsupply.
Join 97,426 other subscribers

Archives