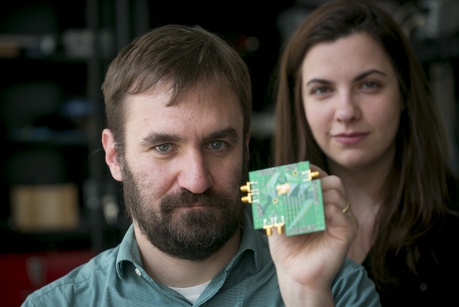 Send & Receive Radio With A Single Chip
Fitting transmit and receive capabilities of radio signals into one device may be impossible without using a significant filter, which is needed to isolate sent and received signals from each other.
The major obstacle to achieve that is the weakness of the received signal compared with the much stronger transmitted signal. However, researchers from Cornell University found their way to jump over this obstacle and created a two-way transceiver chip.
Alyosha Molnar, associate professor of electrical and computer engineering (ECE), and Alyssa Apsel, professor of ECE, had come up with a new solution to separate the signals. They made the transmitter consist of six sub-transmitters hooked into an artificial transmission line. Each one sends a weighted signal at regular intervals which combined with others such as a radio frequency signal in the forward direction, and at the same time they cancel each other in the opposite direction (towards to receiver).
The programmability of the individual outputs allows this simultaneous summation and cancellation to be tuned across a wide range of frequencies, and to adjust to signal strength at the antenna.
"You put the antenna at one end and the amplified signal goes out the antenna, and you put the receiver at the other end and that's where the nulling happens," Molnar said. "Your receiver sees the antenna through this wire, the transmission line, but it doesn't see the transmit signal because it's canceling itself out at that end."
This research is based on a research reported six years ago by a group from Stanford University, which demonstrated a way for the transmitter to filter its own transmission, allowing the weaker incoming signal to be heard.
One of the sub-transmitter concept enhancements is that it will work over a range of frequencies, and instead of using a filter for every band, signal separation can be controlled digitally.
"You could have a single device that can be anything," Apsel said. "You wouldn't have to buy a new piece of equipment to have the newest version of it."
You can find the full research at the IEEE Journal of Solid State Physics.