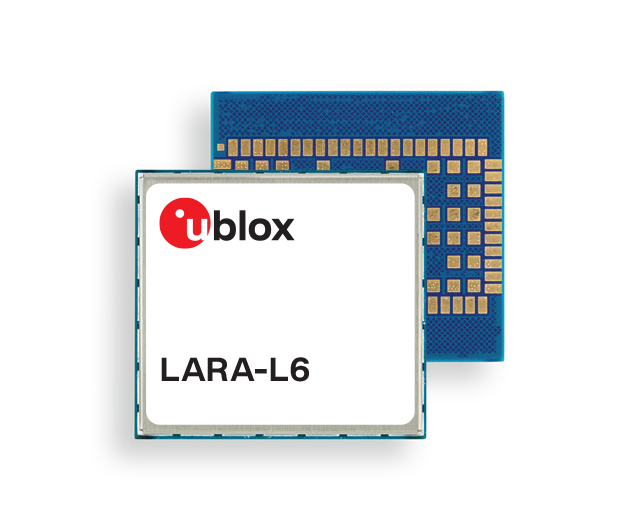 U-Blox designs the world's smallest LTE CAT 4 module: LARA-L6
U-Blox, a leading global producer of positioning and wireless communication technology, has launched the world's compact LTE Cat 4 cellular module with global coverage and 2G/3G fallback. The all-new U-Blox LARA-L6 module's versatile interfaces, features, multi-band, and multi-mode capabilities make it ideal for a wide range of applications requiring high data speed, seamless connectivity, superior coverage, low latency, and streaming data. The latest addition is meant to deliver download data rates of 150 Mbps and upload data rates of 50 Mbps as a successor to the U-Blox TOBY-L2 module series.
Designed for size-constrained applications, the LARA-L6 offers high data throughput and native compatibility for external U-Blox GNSS receivers. Video surveillance, dashcams, high-end telematics, gateways and routers, and connected health devices are all possible uses for the module. One of the numerous advantages of LARA-L6, it offers a full set of security features such as a root of trust, secure boot, and secure updates.
With a 24 x 26 x 2.6 mm form factor, the tiny cellular modem is available in two variants: the LARA-L6004 (global) and LARA-L6404 (North America). The new design complements U-Blox's IoT Security-as-a-Service solution, which safeguards your data both on the device and during transmission to the cloud. This service offers design security, end-to-end security, and access control, all of which can be accessed via the Thingstream service delivery platform. Hence, this ensures that you can focus on your business and enjoy faster time-to-market.
What makes it even more remarkable, the LARA-L6 has pin/pad compatibility with all U-Blox LARA and SARA form factors. According to the manufacturer, this allows customers to design a single PCB that can handle many U-Blox technologies while requiring minimal hardware and software development. It also includes regulatory and MNO certifications, making logistical management for global deployment easy.
"At U-Blox, we understand that customers need compact, flexible, and secure solutions that simplify the complex logistics of product development for global applications. As the smallest globally certified LTE Cat 4 module on the market, LARA-L6 is a clear fit for size-constrained solutions demanding robust security, integration with positioning solutions, and flexibility to adapt designs to use-case-specific data rates requirements," says Drazen Drinic, Product Manager at U-Blox.
As mentioned earlier, the LARA-L6 is designed to integrate smoothly with U-Blox GNSS receivers, delivering higher positioning performance over competing systems with onboard GNSS receivers. This simplifies the development of IoT applications that rely on satellite-based positionings, such as tracking and telematics devices. With LARA-L6, developers can seamlessly integrate with U-Blox GNSS receivers, thanks to native support for GNSS AT commands used to manage positioning modules and chipsets.
Samples of the U-Blox LARA-L6 will be available in the second quarter of 2022, but there are no details on pricing yet.
Join 97,426 other subscribers

Archives