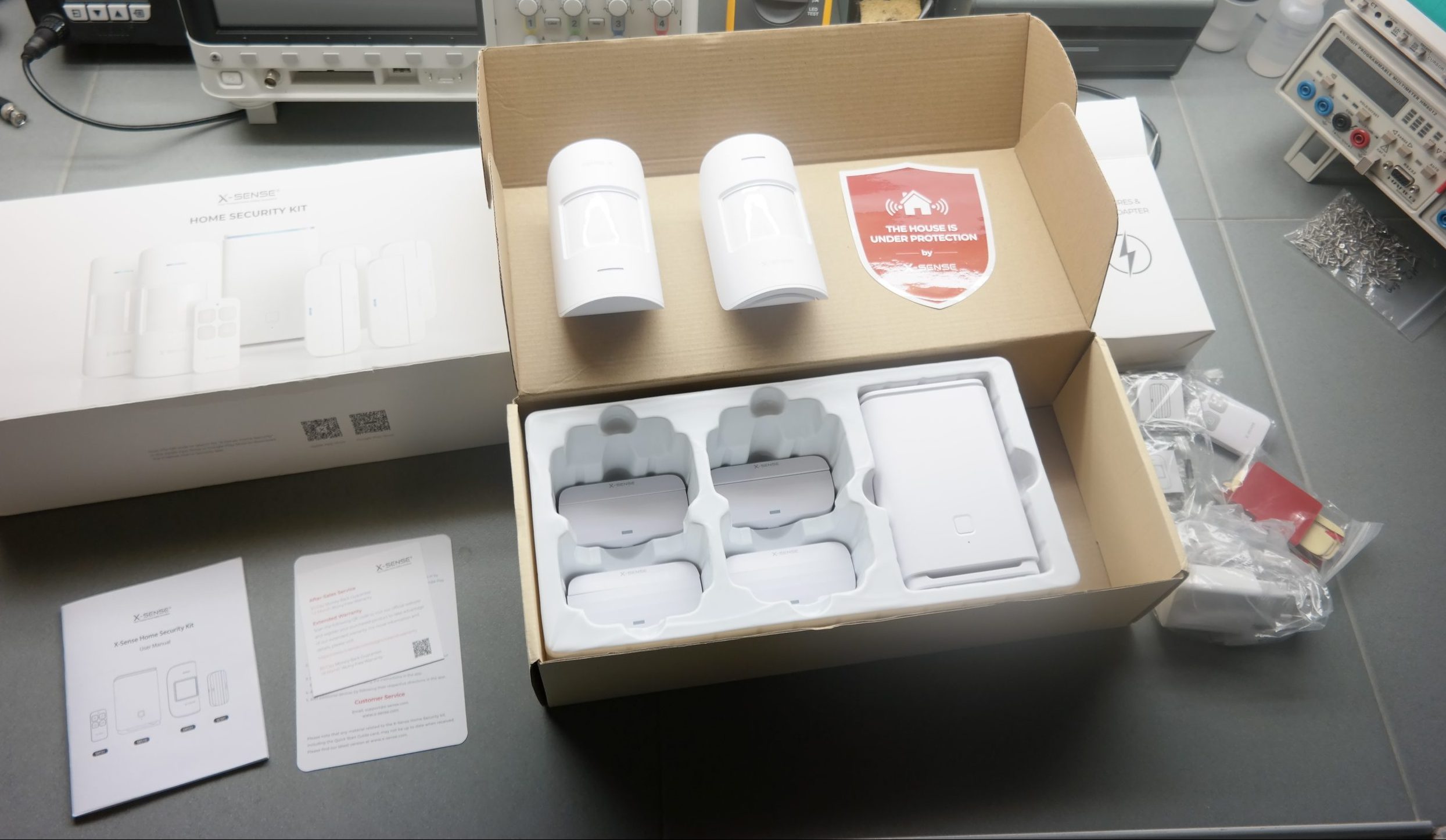 X-sense Smart Home Security Kit – Quick Review
Introduction
There are many reasons to invest in a home security system especially in today's day and age – from providing total security of valuables to having the security of persons, and eventually to have that peace of mind that comes with knowing that everything is under your control whether you are home or not.
Reports have shown that 1 out of 3 homes without a security system will likely fall victim to a robbery incident compared to 1 in 250 homes with a security system. This is because most criminals fear either being caught by police or captured by surveillance cameras. So you really cannot underestimate the necessity that comes with having a security system in your home to protect your family and property.
While home security systems can vary depending on the design and targeted use, they all work on the same basic principle of securing entry points or interior spaces regardless of how big or small the house is. What matters really is the number of security components deployed and monitored by the control panel. Some of the places that you'd likely find security systems around the house include entry points like doors and windows, as well as interior spaces containing valuables like art, computers, TVs, coin collections, etc.

X-sense Smart Home Security Kit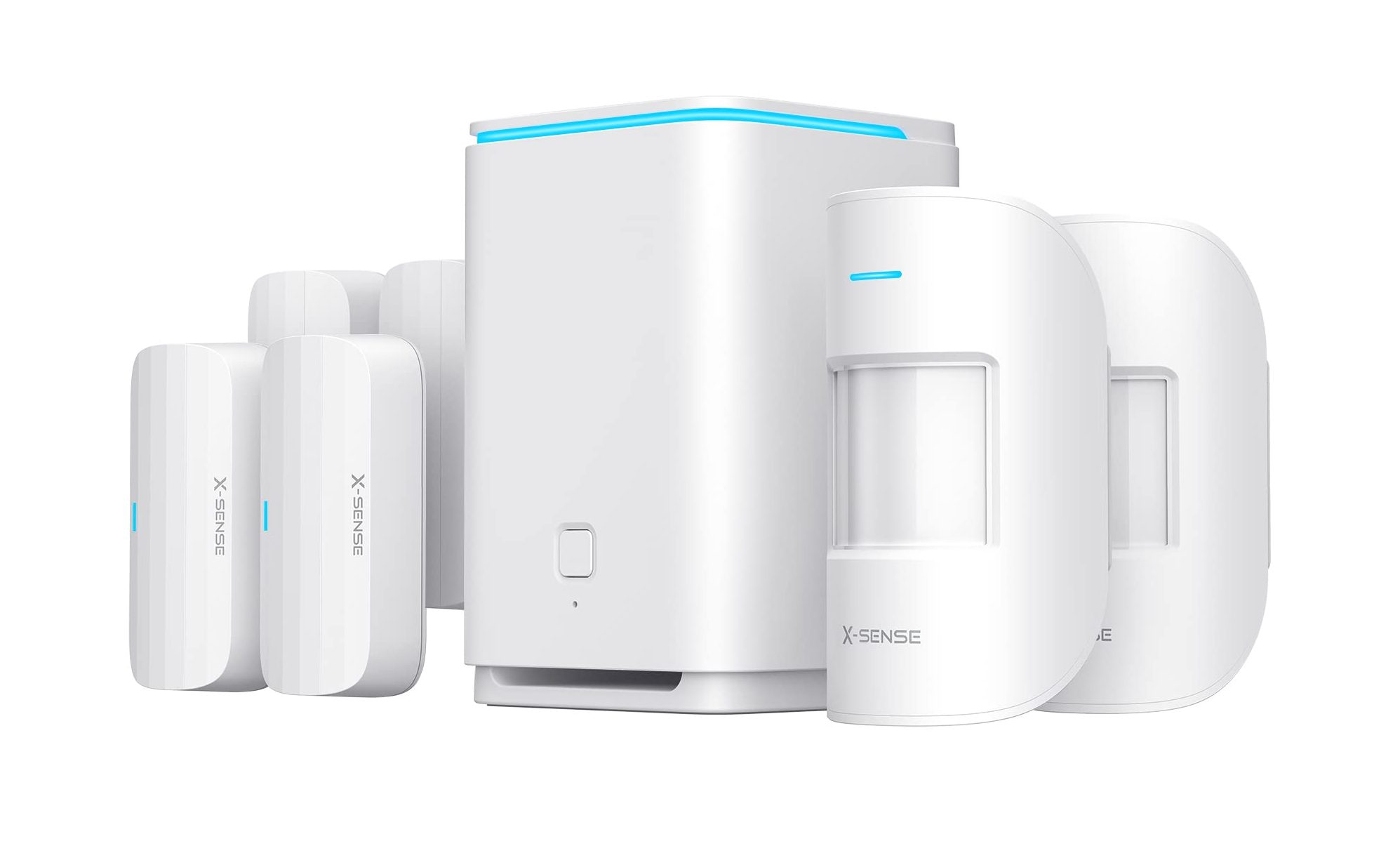 The X-sense home security system is an 8-piece wireless alarm security kit designed by X-sense, a leading global provider of products and services related to home safety. It is a professionally monitored smart home security system with nearly everything you need for maximum protection.
X-Sense home security system offers 24/7 security monitoring and remote control of your house. The security system will also give you an instant notification in case it detects any intrusion or strange moves, so you can take some emergency measures if needed.
The box includes 2 motion sensors and 4 door/window sensors which is enough to cover most access points to your home, along with the base station and remote control.
Our first impression of the X-Sense Home Security kit, after opening the box and having a look at the contents inside, is a positive one. Unlike other kits, it includes a fair number of accessories that you'll need to get your home secured.
The window and door sensors have a nice design to their shape with straight lines that fall with the curve. They feel like good quality plastic.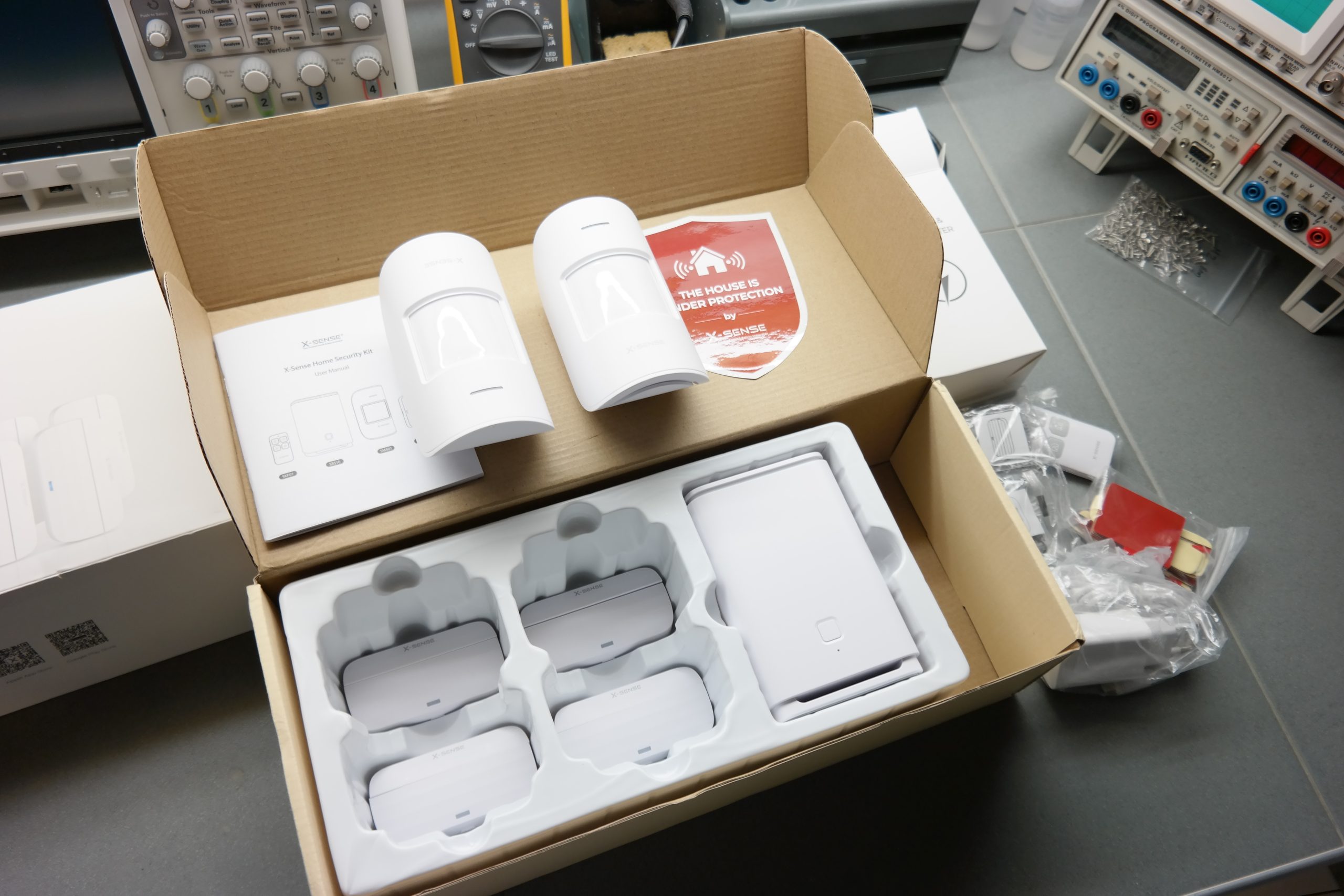 The base station has a clean, elegant look and has the aesthetics of an Apple product. There is an LED strip that runs around the top which will display different colors and will alert with a red light if an alarm has been triggered and different colors to tell you about any WI-FI problems if you should ever have any. There is a button on the front that can be used to silence the alarm if needed and a reset hole underneath if you ever need to reset it back to its default settings.
The remote control is very small and runs on a CR2032 battery which is replaceable. It has 4 buttons that will arm and disarm your home and away modes, more on that during the setup.
Features of the X-sense Security System
X-sense is fully equipped with just the right set of features for total home safety:
4x entry sensors (you are to mount them on your doors and windows so that if someone opens a door or window the alarm will sound and you will receive a mobile notification from the app. There are tapes and screws provided to help with fixing the sensors).
2x motion sensors that offer movement detection in desired areas (has a maximum of 12m detection range and 110° detection angle)
1x Remote Control
Batteries,
A base station with a built-in battery (the base station is compatible with 2.4 GHz Wi-Fi network)
Dimensions: 15.2″ x 6.6″ x 3.9″
The distance between the sub-device and the base station is as long as 1.25 miles/2000 meters, with a large coverage area, strong wall penetration capability, and more stable transmission. This home security system is extremely safe, using bank-level professional algorithm encryption, anti-counterfeiting, anti-tampering, anti-interference.
The system was designed in such a way that you can choose to monitor and control it with a remote or via an Android and iOS supported home security app developed by the company. You can customize and set up the system features just the way you like — the base station sound, the brightness level, alarm tones for each sensor, motion sensor sensitivity as well as the away/home modes.
The company also tried to utilize the most advanced monitoring and control technologies while building the system because I can see that X-sense is based on the latest spread spectrum technology that enables a communication range of up to 1.25 miles between the base station and other security devices. So it doesn't matter how big or structured your home is, X-sense can give a total home coverage, be it a home with basements, or shed, or free-standing garages, or even remote outbuildings.
All these and many more, including the fact that X-sense is easy and fast to install, it's just a matter of minutes. You don't need to do any special wiring too as everything you need is ready in the box.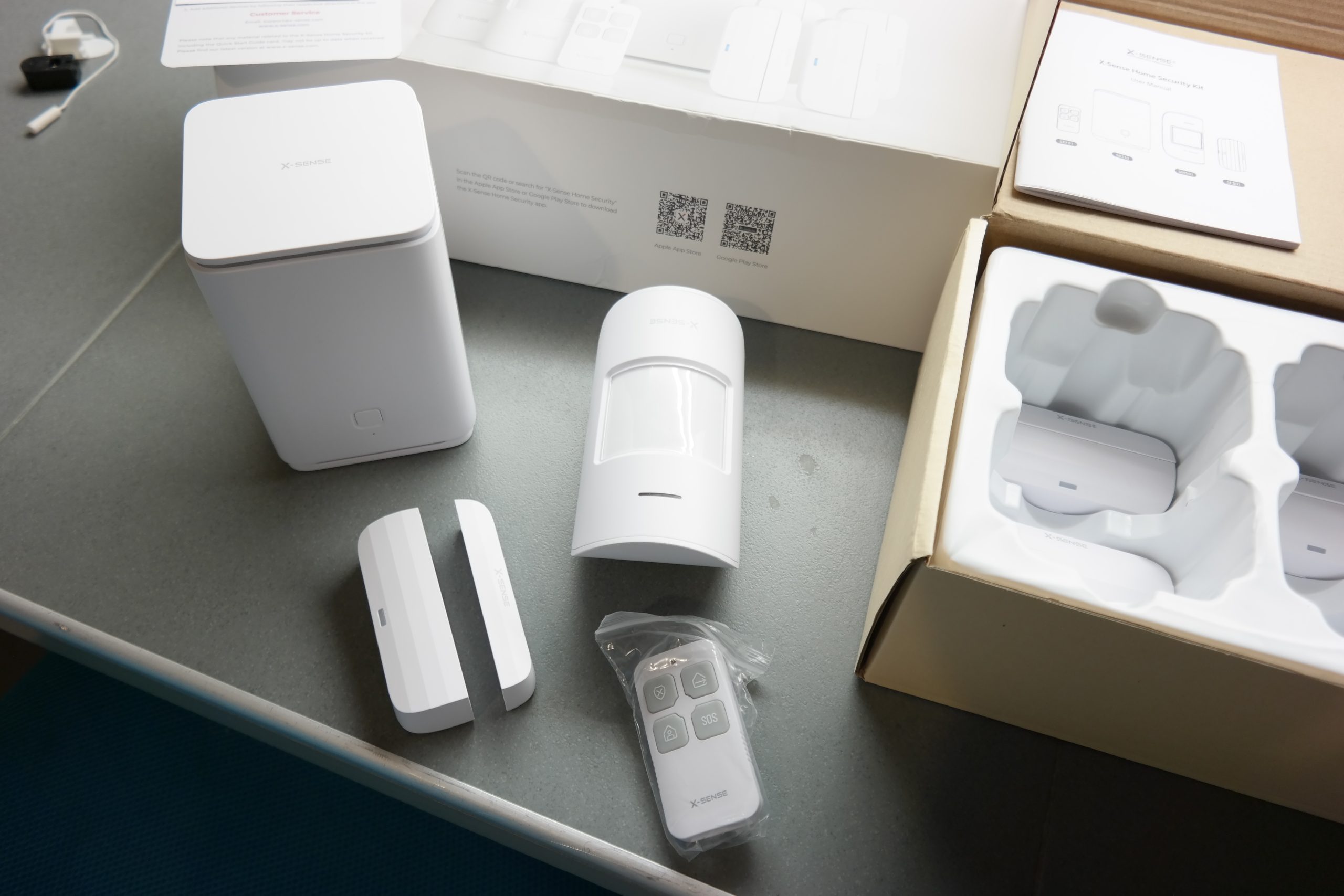 X-sense also has an 1800-mAh built-in backup battery that guarantees about 12 hours of power supply even during a power outage. This way, you can rest assured that your devices are always connected and your security system is available to provide reliable protection.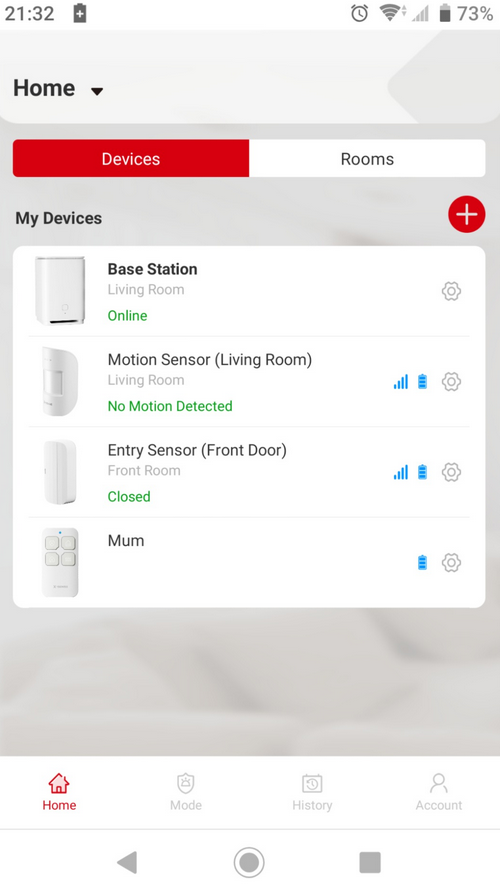 What's more?
The X-sense security system can also be customized in such a way that suits the user. It works well with Alexa, so when you link the system with your Alexa account, you can arm or disarm the system whenever you want by just speaking to it. Something like "Alexa, arm my home", or "Alexa, disarm my home".
What is missing from this alarm system is the numerical keypad that can be used to enter a PIN, but this may be replaced by the remote control you can always have on your keyring or by the Smartphone App.
Pricing and Availability
It is first important to note that buying the X-sense security system is a one-off purchase. You will not be burdened with constant reminders about monthly fees or subscriptions.
The X-sense home security system is available and sells on Amazon for $169 (model with 8 pieces) and $119 (for the model with 5 pieces). This is excluding shipping and import fees though.
X-sense official website
Other useful details on the X-sense Home Security Kit can also be found on their Amazon Store.
Discount Code
Code: CHTG0120 (20% off all products) at x-sense.com
Join 97,426 other subscribers

Archives