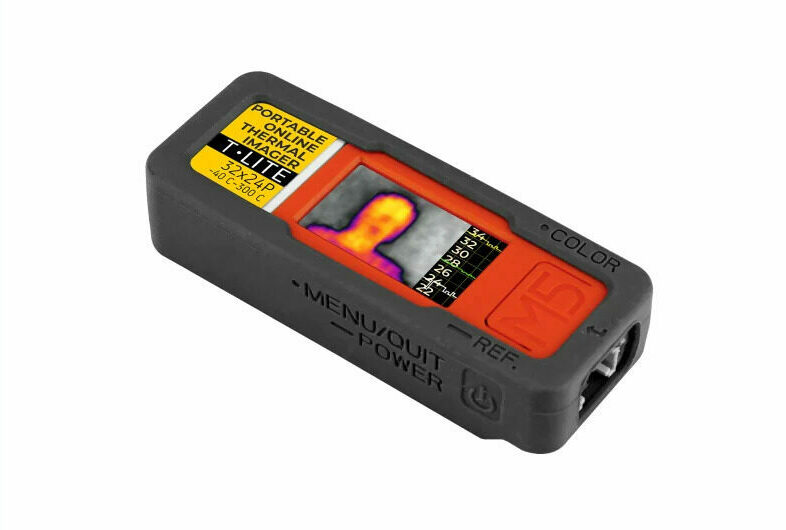 M5Stick T-Lite Wi-Fi thermal camera powered by ESP32 microcontroller
Specialized imaging devices called thermal cameras are devices that make use of infrared radiation to detect and measure the temperatures of objects. The advantage of such cameras is that they can detect temperature differences that are not visible to the naked eye. The M5stick T-Lite is a small, lightweight, and portable thermal camera that is based on the ESP32-PICO-D4 microcontroller. The device has a built-in 1.14-inch colour LCD display for observing the output on the device itself, and a 160mAh battery backs it up. T-Lite is designed to be used as a development platform for creating Internet of Things (IoT) applications.
Technical Specifications
ESP-PICO-D4 systems-in-package is based upon ESP32 dual-core processor. It features a 4Mb SPI flash, 448Kb ROM combined with 520KB SRAM.
With an on-module 40MHz crystal clock the module has a hall sensor & a temperature sensor that can handle a diverse range of temperatures varying from -40°C to +85°C.
The M5stick T-lite is very compact, measuring just 35.5mm x 17.5mm x 10.5mm, and weighs only 5.5 grams.
The display is a 1.14-inch color TFT LCD display with a 240 x 135 resolution. The TFT technology allows for high-resolution displays with good color accuracy and fast refresh rates.
The module uses a 2 MegaPixel thermal camera which uses Melexis MLX90640 infrared sensor. It has a field of view of 110°×75° and can read temperatures from -40°C to +300°C. The sensor can handle a temperature range of -40 to +85°C which ensures that the sensor can be used in difficult industrial environments.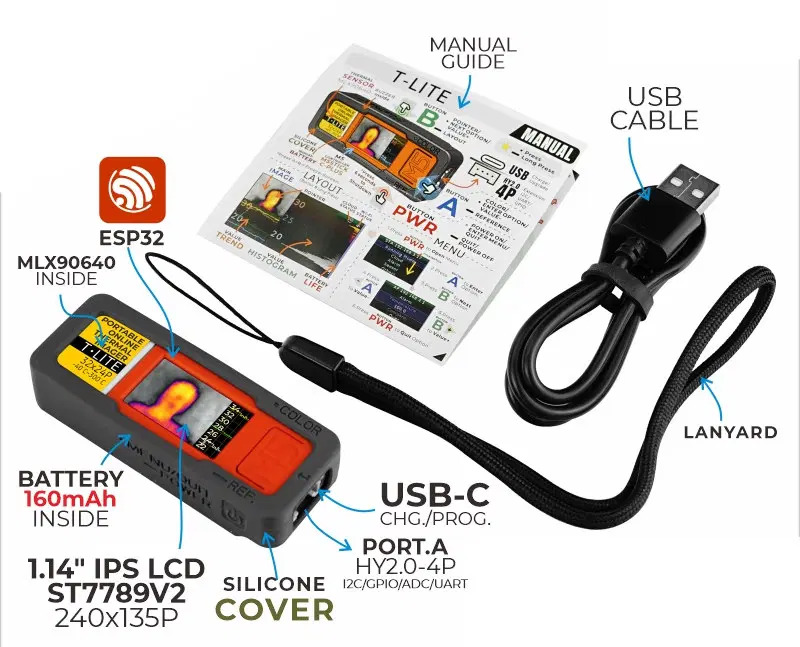 Connectivity Features
The ESP32-PICO-D4 has Wi-Fi 4 and Bluetooth 4.2 which enables the M5stick T-Lite to connect to various devices like smartphones, laptops, etc. The T-Lite has a built-in Lithium Polymer Battery which has a capacity of 160mAh. A 5V supply at 0.5A via a USB type-C port powers this battery, and the PMU used is AXP192. The type-C port helps charge the device faster and more efficiently.
The device is programmable with UIFlow, MIcroPython, and Arduino IDE.
This module can be used to build smart home devices such as smart thermostats, thermal security cameras, and housekeeping robots. Its Wi-Fi and Bluetooth connectivity helps in smart home automation projects. Military drones and robots can use the camera for surveillance purposes. Environment sensing robots also have a vast application of M5stick T-Lite. The M5stick's Wi-Fi and Bluetooth connectivity and its ability to communicate with other devices using various protocols make it a good choice for building IoT projects such as smart home appliances and industrial automation systems.
The company also launched a new programmable controller based on ESP32-S3. It features an integrated Wi-Fi function and 0.85 inch IPS screen. Such modules have extensive applications in areas such as IoT nodes, the microcontroller sector, and wearable devices.
The product is sold for $79 plus shipping charges, and the AtomS3 is available at $15.50.
Join 97,426 other subscribers

Archives