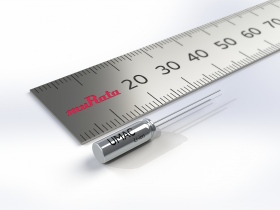 Not a battery, not a cap: Murata's small energy [storage] device
by Graham Prophet @ edn-europe.com:
To meet what the company sees as a gap in the available range of energy storage solutions, Murata has developed the UMAC, a small, high-capacity cylinder-type energy device for use in wearable and wireless sensor applications. Although lithium-ion based, Murata differentiates it from a battery.

The UMAC is a miniature device with a high energy storage capacity, low internal resistance, fast charging and discharging and the ability to withstand load fluctuations. It may be used as a secondary battery in the same way as a capacitor. The UMAC achieves better charge/discharge characteristics and has an extended cycle life superior to conventional batteries. Suited for use as a power supply for wearable devices or sensor nodes for wireless sensor networks, the UMAC maintains flat voltage characteristics while accommodating a wide range of load characteristics.
Not a battery, not a cap: Murata's small energy [storage] device – [Link]