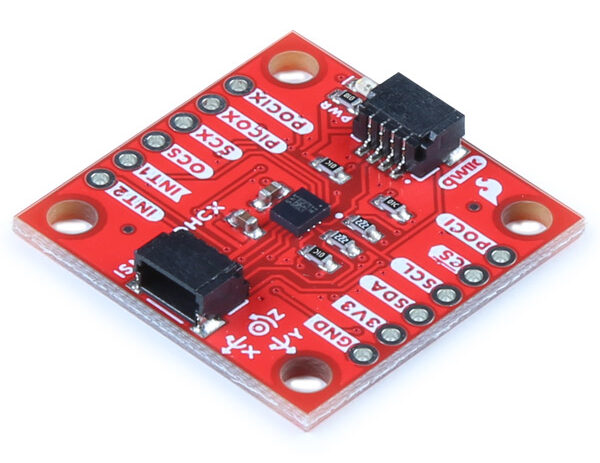 SparkFun introduces Qwiic 6DoF IMU breakout board featuring six degrees of freedom IMU
Colorado-based embedded electronics specialist, SparkFun, has released a compact Qwiic 6DoF IMU breakout board powered by STMicroelectronics ISM330DHCX. The ISM330DHCX is a system-in-package with a high-performance 3D digital accelerometer and gyroscope tailored for industry applications.
The ISM330DHCX's fundamental parameters are remarkable, delivering wide bandwidth, ultra-low noise, and a selectable full-scale acceleration range of ±2 to up to ±16g. Furthermore, the 3D gyroscope has an angular rate range of ±125 and goes up to ±4000 dps, and it provides excellent stability over time and temperature in addition to having extremely low noise. The implementation of smart and complex sensor nodes that provide great performance at incredibly low power is made possible by an unparalleled collection of embedded features such as a machine learning core, programmable FSM, FIFO, sensor hub, event decoding, and interrupts.
The ISM330DHCX chip features four operating modes:
Mode 1: This is the "peripheral only" mode by default, and it allows you to use either I2C or SPI.
Mode 2: This mode provides an additional I2C port controlled by the 6DoF; up to four external sensors can be added to the device's I2C controller interface.
Modes 3 and 4: An additional SPI serial port is offered for connecting external devices (i.e. camera module) in addition to the basic I2C peripheral interface. However, Mode 3 is only accessible for the gyroscope, but Mode 4 is available for both the gyroscope and the accelerometer.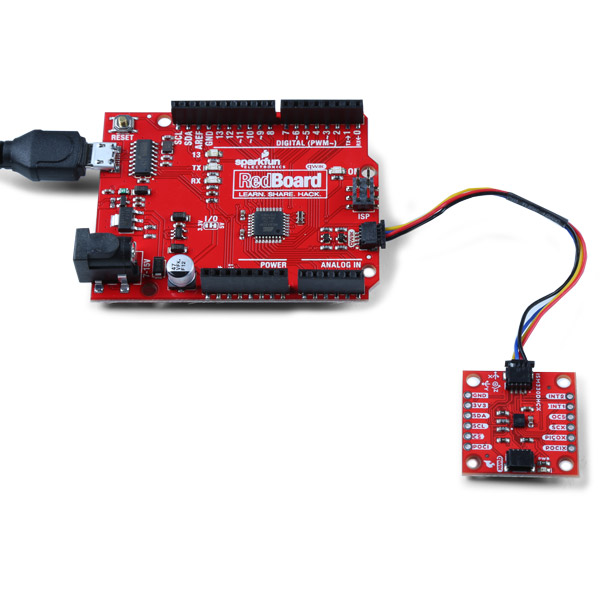 No soldering is required to connect the Qwiic 6DoF IMU to the rest of your boards because it connects by default through I2C using our convenient Qwiic Connect System. However, for customers who prefer a soldered connection, the manufacturer routed the I2C signals out to a set of 0.1″-spaced pins.
The board, with its compact design, aims to simplify applications such as platforms, optical images, lens stabilization, robotics, industrial automation, navigation systems, and vibration monitoring and correction. The chip also has an inbuilt pedometer, a temperature sensor, and a self-test mechanism to make sure the gyroscope and accelerometer components are complying.
On the software side, the manufacturer provides a simple Arduino library to get you started reading data from the ISM330DHCX. You only need to search for "SparkFun Qwiic 6DoF – ISM330DHCX" in the Arduino Library Manager tool to install the library. The library can be obtained from the GitHub Repository for users who wish to manually install it.
SparkFun Qwiic-compatible breakout board is priced at $24.95 which can be ordered from the official product page. The manufacturer has also provided a hookup guide on the website.
Join 97,426 other subscribers

Archives