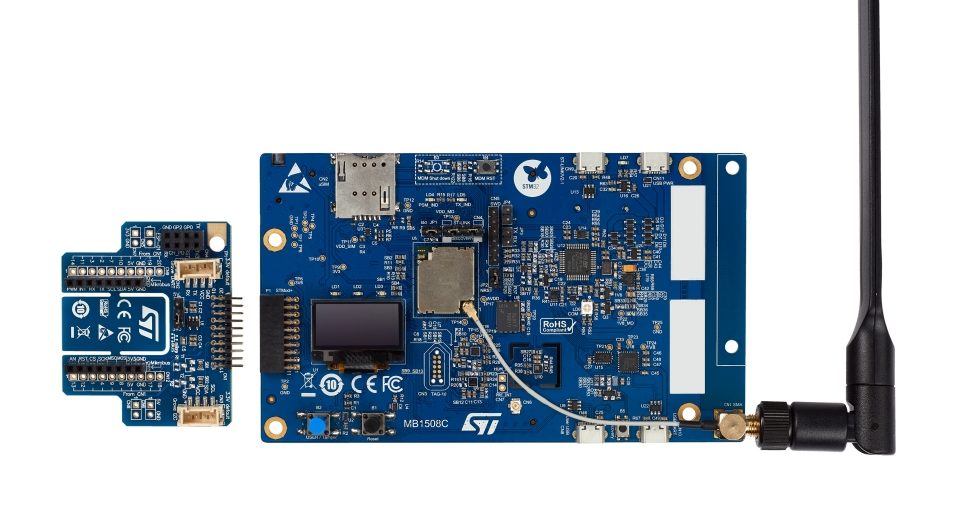 STM32 IoT Discovery Kit for Cellular Applications: B-L462E-CELL1
The STM32 IoT Discovery Kit, commonly known as B-L462E-CELL1, is a ready-to-use development platform for cellular IoT devices created by STMicroelectronics.
According to ST, the Discovery kit integrates a discovery mainboard powered by an LBAD0ZZ1SE module, a global coverage antenna, and a fan-out board. This module also delivers class-leading optimization and flexibility in a highly integrated package, making it ideal for embedded developers and IoT evangelists.
Technical Specifications of STM32 IoT Discovery Kit
Ultra-low-power STM32L4 Series STM32L462REY6TR microcontroller based on the Arm Cortex-M4 core with 512 Kbytes of Flash memory and 160 Kbytes of RAM in a WLCSP64 package.
64 Mbytes of onboard Quad-SPI Flash memory from Micron is exclusive with the 1 MByte of Quad-SPI Flash memory inside the module.
16 Kbytes of I2C EEPROM (M24128-DFMN6TP) from STMicroelectronics.
0.96-inch 128 x 64 OLED screen with SPI interface.
Low-power Audio CODEC with PCM bus and I2C interface.
Flexible power-supply options: ST-LINK USB, User USB, UART USB, Power USB, or three AAA batteries.
On-board ST-LINK/V2-1 debugger/programmer with USB re-enumeration capability: mass storage, Virtual COM port, and debug port.
End-to-end connectivity applications.
Low‑power cellular network services from Truphone.
Support of a wide choice of Integrated Development Environments (IDEs) including IAR Embedded Workbench, MDK-ARM, and STM32CubeIDE.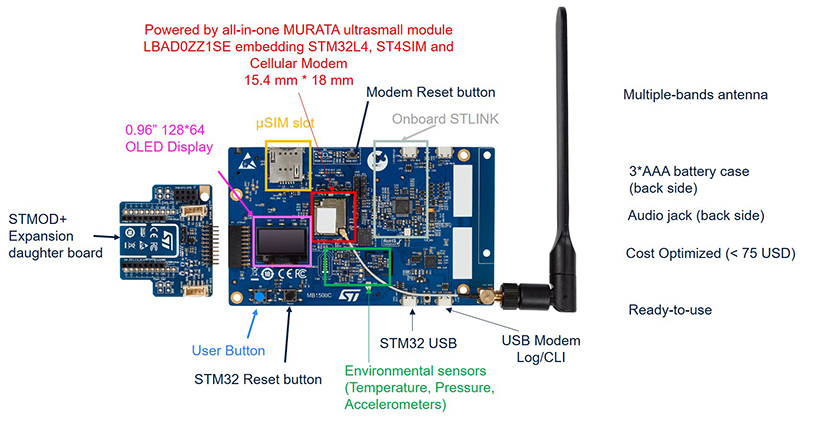 The Discovery kit comes with an LBAD0ZZ1SE module featuring an ultra-low-power STM32L462RE microcontroller at its heart. This cellular module from Murata is conveniently powered via the STM32L4.
With ST's ultra-low-power technologies in the STM32L4, which draws about 2µA in STOP 2 mode, and a cellular chipset drawing less than 1.4µA in Power Saving Mode (PSM), the B-L462E-CELL1 Discovery kit provides a platform to develop equipment with a battery life of up to 10-years for smart-city, smart-industry, smart-agriculture, smart-metering, and wearable applications
The LBAD0ZZ1SE module also comes with a built-in ST4SIM-200M GSMA-certified embedded SIM (eSIM) which is pre-programmed via a bootstrap connectivity profile from Truphone, an ST Authorized Partner. The eSIM enables the quick development of power-conscious Cellular IoT devices that connect to the Internet through LTE-Cat M and NB-IoT networks.
In addition, the eSIM is GSMA SGP.02 v3.2 certified and offers strong resistance to cellular connectivity attacks, providing enhanced cyber-security protection. The ST4SIM-200M embedded SIM is compatible with 2G, 3G, and 4G (LTE) networks, as well as CDMA, NB-IoT, and CAT–M. Moreover, the kit focuses on applications that require wireless connectivity, and it also supports Over-the-Air updates with this SIM. This allows it to be more portable as it won't rely on Wi-Fi hotspots for IoT applications.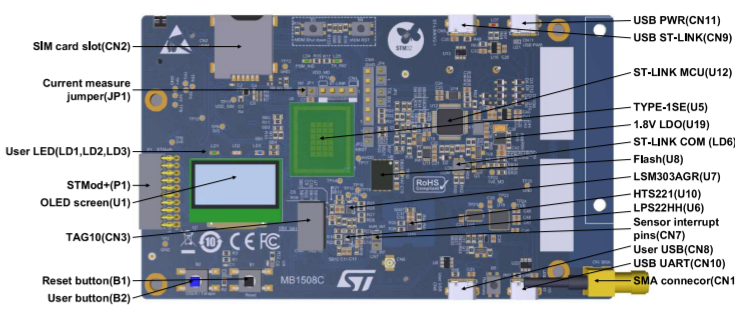 The manufacturer has also provided several sensors, including ultra-low-power LSM303AGR 3D-accelerometer-magnetometer, a capacitive digital sensor for relative humidity and temperature (HTS221), and an LPS22HH pressure sensor. So, the kit facilitates the development of motion and environmental monitoring solutions, with this set of onboard sensors. The board is activated instantly by connecting it to a power source via ST-LINK USB, User USB, UART USB, Power USB, or three AAA batteries.
Connectors Included with Board
SMA antenna connector
Two 50-pin 2.54 mm pitch headers
STMod+
micro-SIM card slot
3.5 mm CTIA stereo headset jack including analog microphone input
USB Micro-B connectors for power, USARTs, USB device, and ST-LINK/V2-1
TAG10
mikroBUS expansion connectors
ESP‑01 expansion connector
Grove Seeed Studio breadboard, I2C, and UART expansion connectors
Discussing further, the kit also features the MAX9867ETJ+, an ultra-low power stereo audio codec, designed for portable consumer devices. Adding more of the hardware, there are three user LEDs and two pushbuttons (user and reset).
The software ecosystem includes an ST-LINK debugger/programmer and a comprehensive STM32Cube software library to demonstrate end-to-end communication. The kit includes a variety of IDEs, like IAR Embedded Workbench, MDK-ARM, and STM32CubeIDE. The X-CUBE-CELLULAR, a STM32Cube software expansion package, controls the Discovery kit. It also provides support for the Berkeley (BSD) sockets application programming interface (API). Hence, users may connect their prototypes to the Internet using BSD's standardized function calls. This is used for Internet communication, eliminating the requirement to develop an AT-command driver to control the modem.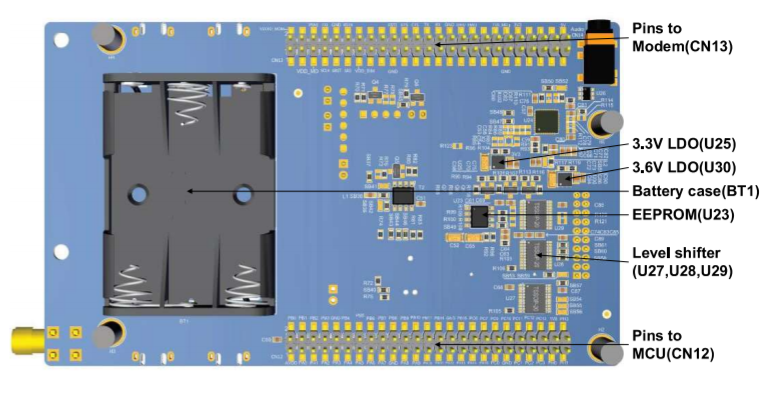 We also saw the STM32 Nucleo-64 development board, which provides flexible prototyping due to its support for Arduino Uno headers; however, this STM32 Cellular IoT Discovery kit received an upgrade to many additional components, including a display, onboard sensors, and LEDs. For those looking for some fast prototyping, a Nucleo board is a good option otherwise, B-L462E-CELL1 will suffice.
The STM32 B-L462E-CELL1 Cellular IoT Development Kit is available at $74 on the official product page.
Join 97,426 other subscribers

Archives